Language Arts 

Thi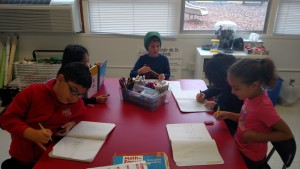 s week we talked a lot about being thankful. Lots of kids were buzzing about how they were going somewhere or seeing someone special over the break. I took this time to talk about being thankful to have the opportunity to go visit different places and to see family we may not get to see often. We made "thankful pies" this week that I hope everyone has had a chance to see on our front door. Everyone tried to write at least one thing about our school we were thankful for in our thankful pies. Many kids wrote about how they have lots of friends in school and how they are thankful for all the teachers as well.  The kids really had a fun time writing and discussing everything they were thankful for. For the long break I made sure to give everyone a new book for their binder. I hope everyone has some time to read over and practice these books. Have the kids read to family members they are not usually able to read to as well! Our two high frequency words this week were quien (who) and esto (this). Most of the kids already knew both words so we worked through them very quickly. Again, always try to have your child use their high frequency words at home. When we get back from Thanksgiving break we will be writing in our journals about what we did so make sure to remind your student of events going on that would be good to remember for this activity!
Math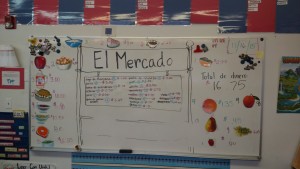 It was a very exciting math week!We began the week by discussing using subtraction in real world problems. We also learned about using addition and subtraction in fact families. For example: 2+3=5, 3+2=5, 5-2=3, 5-3=2. We then played a game where we had to go to the store and buy groceries for Thanksgiving dinner. We picked out traditional Thanksgiving foods like turkey, mashed potatoes, gravy, and green bean casserole. Each item said how many it would feed and how much it costs. From their the students had to add up how many they would need to buy and what the total for that item is. I then had them subtract t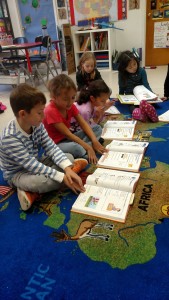 hat amount from our budget of $100. This activity used a lot of addition and math but also built our knowledge with money and real world problems. Each student was so involved with the game and we were able to buy all the food we needed, including pumpkin pie and apple juice for our Thanksgiving dinner. As we bought things from the store the students would draw them on their paper plates to show that it had already been purchased. These plates should have gone home on Thursday, please ask your student what specific items they had to "buy"! For the break I have sent home a large subtraction math packet, this packet is just review of the subtraction we have been doing in class. It does not need to be turned back into me nor does it all need to be completed during this one week. If your student take more time finishing the packet
because of the holiday it is fine. We also celebrated a special birthday this week (because her real birthday is on Thanksgiving day and we won't be able to celebrate it with her on that day). But we do all wish her a very happy birthday!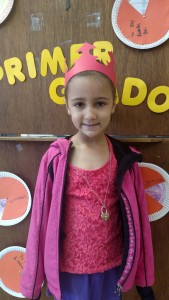 Social Studies & Science
This week we got to have a couple of special guest speakers come in and do a lesson Judaism.  Holly and Sophie Jacobs presented information on Jewish history, important holidays, and customs. Sophie made a wonderful poster board, which we still have on display in class,  to help illustrate the topics.  Afterwards they had us playing a game of dreidel while enjoying some traditional treats.  I was impressed not only by the presentation, but also by the thoughtful questions that were asked by our class. On Thursday we started reading about the Islam faith. We compared and contrasted this religion to Christianity and Judaism and then we began filling in a comparison chart on the three.
We finished our Habitat  curriculum last week, though we will continue to focus on the ocean habitat this week and the first week of December.   The class did a domain assessment and we began thinking about what animals we might want to do for a report.  We did lots of reading about the ocean creatures and made some of our own to decorate our "ocean habitat" in the room.  The class has been enjoying watching our brine shrimp (Sea Monkeys) grow.
English Spelling and Writing

The class worked on sorts and journal writing this week as I finished up reading assessments.  Everyone read an expository passage on either turtles or fish and whales,  while I checked for fluency and comprehension.  This week in our journals we wrote about our visit from Holly and Sophie as well as what we would do if we were under the sea.  We brainstormed word banks and ideas of what we might write.  The class took their underwater writing entry and  published their work inside a "scuba guy" template.  Your child can't wait for you to view their underwater diver, swimming in our ocean.
Art
The First Graders used acrylics to paint their clay "Turkey Pinch Pot" this week. They did a great job following directions and being careful with their clay sculptures. I hope you enjoy these wonderful little turkeys during Thanksgiving break!