Language Arts 
This week we read La Canción del Bichito de Luz, La H, Los Trés Perritos, El Sapito Glo, Glo, Glo,  and La Gata Maroma together in class. These are all very quick short stories that the kids really seemed to enjoy. We focused on using the table of contents to find each story, we also talked about how in our book the table of contents includes the author of each piece while in some books it shows chapters or sections. We focused a lot on making predictions while reading a story as well. We first made sure to look at illustrations and make predictions about the story before we began reading. This is a great strategy for students to use while reading any book as it can help them understand what is going to happen or what is happening if they are having trouble following along. We also made predictions while reading using what had already been read and the pictures that we saw before. Although, our predictions were not always correct we had a lot of fun thinking of different endings for the stories.
We also talked about Veterans day this Friday. We explained what veterans are and why it is important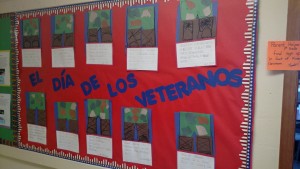 to thank them for everything they do for us. Many of the kids explained that they had family members that are veterans. We enjoyed telling each other a little bit more about our families that we had not known before. We also did a Veteran's Day project that is hung on the bulletin board outside the classroom. Please take a second to stop by and take a look. The kids worked really hard on their sentences and I think they all did a fantastic job!
Math
We began subtraction from 1-10 this week. The kids already understand what subtraction is and are able to do 1-5 very quickly in their heads, so we have been working on subtraction strategies. We began with talking abo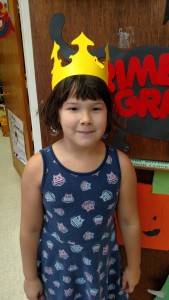 ut vocabulary for subtraction such as quitar (take away), menos que (less than), and igual a (equal to). Although, we have used these words before we reviewed using them specifically with subtraction. We used connecting cubes in class to show take away problems from 1-10, the kids of course love the cubes but it was also a great way for them to visually see the blocks being taken away. We also used our numeros conectados (number bonds) to solve subtraction problems. Because they already understood how number bonds worked they caught on to this strategy very quickly. We will begin using subtraction in story problems next week!
We also celebrated a special birthday this week! This was my first time doing the birthday book and I absolutely loved it. It was so great to hear why everyone thinks their fellow student is so special and how happy they are to have her in our classroom.
Social Studies & Science
This week we started learning about the exciting saltwater habitat in science.  The class read a mini ocean book, began working on some different sea creature creations, examined some different types of shells and coral, and did a science experiment on saltwater.  We read about the coral reefs, kelp forest, the open ocean, and all the animals that live in these places.  We also learned a new song about the ocean.
In social studies we have been finishing up our Egyptian unit.  On Monday the class got to hear the rest of the interesting story of how Howard Carter found the lost tomb of Tutankhamen and what treasures it held.  On Tuesday we made a King Tut mask and did an experiment to find out how the Nile effected farming in Egypt.  On Thursday the class got to try their hands at an archaeological dig and do some excavating of a chocolate chip cookie.  We also got to look at the BBC site on Ancient Egypt in the computer lab.  Finally on Friday we had our Egyptian day.  The class got to wear their Egyptian "weskhe"collar that they had made in Art class a couple of weeks ago, they made marshmallow and toothpick pyramids, Egyptian bracelets and tried their hands at mummification.  It was a very fun day!
English Spelling
This week and next, I will be working on assessments in order to get ready for the November conferences and report cards.  The class took a spelling "test" this week.  The test covered words from most of the sorts they have had so far and is a way for me to assess the understanding of the word families and their phonetic awareness.  We learned more about verbs this week.  The class did a couple of activities to recognize action words in sentences.  For journals we wrote about our weekend, with an emphasis on Halloween.  We started one writing prompt using descriptive words, such as spooky, wet, rainy, and dark.  Some of the class chose to write a Halloween story.
Art
The 1st graders learned how to make a clay "pinch pot" in art, and then they added a head and tail feathers to turn it into a "turkey pinch pot." We talked about the difference between drawings, paintings, and sculptures. And we looked at photos of famous sculptures such as Native American totem poles, the Statue of Liberty and "Little Dancer" by Degas. These great little clay turkeys will be ready to paint at the next art class.