Summer Camps
Every child loves singing, obstacle courses, playing crazy ball and many other games and activities, as well as fabulous art projects. We do all these…in Spanish! We provide a language rich environment doing all the things children love so language acquisition is natural.
Your child will come home singing songs on the first day and asking for more on the last day of camp.
We prepare lunch together, providing more language experience (rolling out those tortillas), as well as a filling and nutritional lunch.
All camps are taught by Maestra Sarah!
Camps are appropriate for children entering kindergarten and above.
CAMP DATES

Camp 1        July 10-14               10:00-2:00

Camp 2        July 31 – August 4           10:00-2:00

Cost: $135 – includes all supplies and lunches.

Registration Form: Application 2016 (1) (The new form will not load!  Please use this form and indicate which camp.)

Please contact us if you have any questions.
Preschool Summer Camps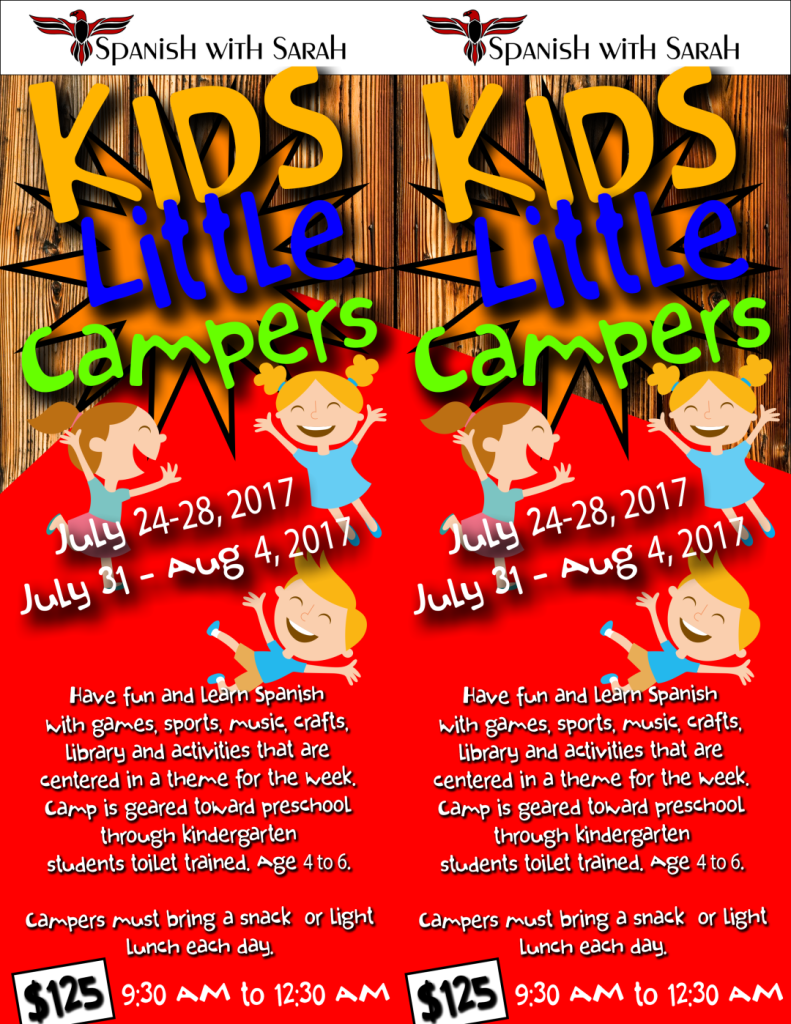 The Robotics Club returns this summer for
Intro to Robotics
July 31 – Aug. 3
 (4 days)
9:30 – 2:30
 (20 hours total)
3rd grade – 6th grade
8-10 students
Advanced Robotics
3rd – 6th grade
The advanced robotics camp is for entering 3rd – exiting 6th graders.  I have changed up the content enough that students from last year would learn more, specifically about gears, counters, sensors. There will be an art day where they create their own drawing robot (a moving robot vs. stationary doodler). And they will have flexibility on the last day to either do Sumo or build something new.  I am incorporating more opportunities for them to do mechanical design of robots in this week. ~Ayn
Registration forms are available in the school office. Sign up early … space limited to 8 students per session. Cost: $200
Coding fundamentals and basic mechanical design will be taught using the Lego EV3™ platform with a custom curriculum. The small group setting of 8 students working in pairs ensures everyone learns and gets the opportunity to extend their capabilities.
Each day will begin with a quick introduction of new concepts, then students start building robots & code.  They have time for coached and self-directed exploration and play. We finish the day with class challenges & competitions between teams. We'll take breaks for recess and lunch to get some fresh air!
Contact Ayn Lavagnino with any questions (lavaayn@gmail.com)