Language Arts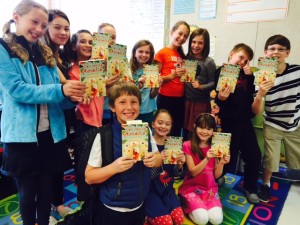 On Monday, students worked on their new spelling list which focuses on palabras esdrujulas y sobreesdujulas (ask your child to tell you about these words). Students were asked to submit their sentences on Thursday. As a class, we selected the sentences that will be part of our dictado on Tuesday and Thursday. This particular list gave us the opportunity to take a  closer look at complex words/verbs, their meaning, conjugation and accurate usage. Please make sure your child practices their sentences over the weekend.
After our fun school event Corrida de calabazas, our class started working on an expository piece. We reviewed some concepts such as identifying the purpose for our writing as well as our audience, and gave examples of different informational texts. We also had a chance to review non-fiction text features. We have a fun project in mind, which I will tell you more about as it progresses.
We culminated our week with our  reader's celebration. We have successfully finished our first book club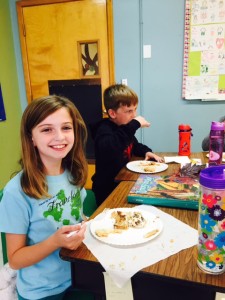 and look forward to our next one. Students have shared their ideas of possible books and we will be making a democratic decision next week!
Oswaldo Guayasamin is a renowned Ecuadorian indigenous artist. I am very fond of his work. I wanted to share his sublime work with my students. On Friday afternoon, we looked at some of his work  and interpreted some of his remarkable pieces.
Science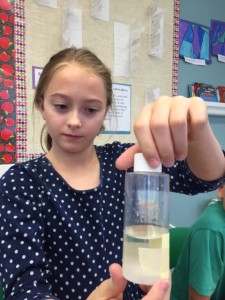 We conducted the first part of Investigation 2: Reaching Saturation. Using specific measurements, students worked on making a solution by adding salt to water until no more salt would dissolve. As we kept adding more spoons of salt into the water, we discovered that there was a limit to the amount of solid(solute) that dissolved. Even after we tried shaking the bottled very fast.  We learned that when the solution has "soaked up"as much solute as it can, the solution is saturated.
Math
Students worked at mastery of long division this week. We did a lot of group work, various activities and practiced how the standard algorithm is completed step by step. We will do more with this next week. As the strategies are mastered, students will be assigned more complicated tasks that will require a higher level of thinking about division.
Social Studies  
In history this week we continued our studies on the Renaissance. We have learned a lot of interesting facts about this historical time! Next week we will be reading and learning more about the Renaissance and will follow that with more details about the Reformation. Our weekly vocabulary studies have done well to solidify people, places, and important inventions during the European Renaissance and Reformation time period.
Art
The 4th and 5th graders finished their "Aztec Sun Design Meets Vinyl". The students did a great job gluing their shapes in a symmetrical pattern around the label of a 33 record. Stop and see these Very Vintage designs which are on the bulletin board by the boys restroom.
Music
We listened to several examples of Cuban music that Sr. Kit recorded on his recent trip, and learned a bit about the school's new percussion instruments. We also talked about the history of Cuba since his precious visit in 1958, and some of the people he met there.