Language Arts 
We had another busy week in literacy. In grammar, syntax and word studies we worked on identifying simple sentences (subject/object). We also worked on vocabulary (words with multiples meanings) and prefixes i- , in- (irreparable, intacto). We also spent time listening to Amalia grandmother's favorite song: Gracias a la vida, by Violeta Parra. Violeta Parra is considered one of the most influential Chilean songwriters- singers and is an icon in Latin-American folk music.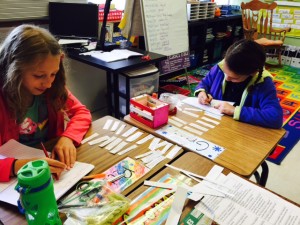 On Thursday we finished reading our book Con carino Amalia. Once again, students have done such a remarkable job staying on track with our reading schedule and also maintaining accurate records of their reading. During this project, the main goals for our students are to be able to:
Identify the key elements in the story and demonstrate understanding of the main message(s).
Describe characters, settings, important events. Summarize making a distinction between main ideas/events and supporting details.
Check for understanding asking questions and clarifying their questions.
Compare and contrasts elements of the story.
Explain their thinking and share ideas, connections and inferences with others.
Next week, we will continue to discuss our understanding of the story and will be working on our book portfolio. They will also have time to reflect on their work to self-assess their work. On Friday, portfolios need to be submitted. After that, we will be having a culminating celebration.
Math
Students were hard at work all week mastering the algorithm of 2-digit by 2-digit multiplication equations. We spent some time on ALEKS, played a dice game in groups, as well as enjoyed a culminating activity to exhibit mastery called "birds of a feather". Some students insisted on bringing this home to finish over the weekend, they were so engaged!
Social Studies  
This week we started a new unit on the Renaissance and Reformation. Students have done well learning several vocabulary words for this important historical time. In addition, we learned an excerpt from William Shakespeare's "A Midsummer Night's dream" for our weekly poem study. More kids than ever before chose to memorize and recite their poems this past week.  It was so fun to see! Next week we will take a look at another of Shakespeare's works as he was such an instrumental figure of the Renaissance age.
Science
 This week we spent time reviewing concepts of our first investigation and checking for understanding.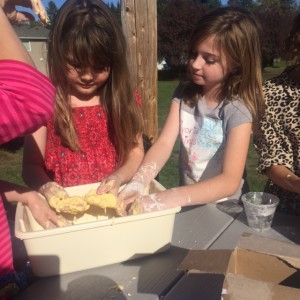 We played a fun true or false game which students rocked! We also had  a hands on activity where students made a mixture of Maicena and agua. This was a great opportunity to review vocabulary as well. We saved our dough to introduce some ideas for our upcoming investigations. There is a very interesting process that happens when mixtures start to smell! next week will start our second investigation: Reaching Saturation. If your child wants to get ahead of the game, they were asked to brainstorms some ideas and how these word connect. Here there are some key words: saturated solution, solvent, solubility, quantity. Have fun!
Art
In 4th and 5th grade art we looked at the Aztec Calendar or Sun Stone, and talked about sun designs used by Aztecs, Mayan, and Inca people. The students then made a sketch of their own sun design, and created paper patterns that will be glued on old vinyl records (that were free at a thrift store). I'm excited to see how these creative sun designs turn out!