Language Arts 
In Literacy, we continued to discuss and share different aspects of our cultural herit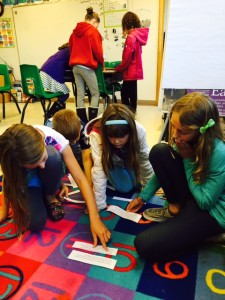 age by introducing our students to a new story(autobiography) for our listening center: La tierra que perdi: aventuras de un niño en Vietnam. Next week, students will be working on listening comprehension work that relates to the story. An important activity we do for listening and reading comprehension is to preview key vocabulary and sentence structure they will encounter in the stories. Students use this knowledge to understand the message of the story, along with other strategies we have learned (cognates).
Students are encouraged to apply  this knowledge to other contexts. On Friday, students took a spelling assessment, writing sentences that were generated by the class. They also took a reading assessment of the book Microbios: amigos o enemigos, which was their last week's takehome book and that they had opportunities to practice in class during group reading/discussion time. Students took home a new book this week. This book will be assessed in two weeks. Please make sure that your child practices his/her reading on a daily basis.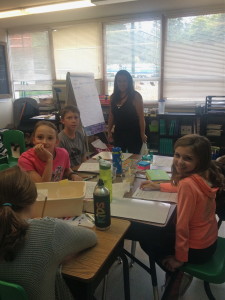 Science
On Monday, using different  solids and water, students  conducted their first investigation: Separating Mixtures. During this investigation students experienced first hand what a mixture and a solution are. Please ask your child to tell you the details of this project, as one of our assignments in class is to understand and retell procedures. One fun group activity was to  sequence the experience by putting the sentences in the correct order.  Students are expected to apply scientific thinking processes to conduct investigations and build explanations: observing, communicating, comparing, organizing, relating and documenting.
Things to remember:
Students have a homework packet that is due Friday, September 25th. Please return the packet with the orange paper signed. Conversation cards are for the family to keep and generate a discussion around the topic read by your child.
Students took home a new book in their binders and are expected to read it on a daily basis and bring back to school every day.
Students took a library book home.
Over the weekend, students are expected to answer a paper that has three questions about their cultural heritage. This is due Monday and will be the basis for a project in class.
I would like to express my gratitude to all my students as they celebrated with me my beloved country's birthday on September 18th. It is definitely hard to spend this day so far away from my land, family and friends, but it also makes me really happy that I get to spend it with my students, sharing and honoring an important part of my cultural heritage: my language.
Have a great weekend!
Maestra Paola
Math
Our students took the lead this week in sharing what went on in each subject with Ms. Sally. Here is what they had to say:
This week in math we studied place value up to 10,000,000. We have been assigned a lot of practice work this week. Our class took a test for place value to see if we understood it. We will still work on it for a little longer. Make sure you work on Aleks for at least 15 minutes!
Have a great weekend! – Riley and Azalea
This week in math we have studied place value. We have been learning numbers up to ten million. We have done lots of work to learn faster. We have done lots of patterns of numbers to find the values of the numbers. We also have been practicing saying and writing numbers. Have your kids practice saying these numbers:  21,986,398     7,256,324    9,000,004     2,302, 563    1,659, 007
Have a good weekend – Carsen and Ava
Read Aloud
This week we enjoyed our read aloud book, Out of My Mind, by Sharon M. Draper. This inspiring book is about a girl who has Cerebral Palsy, a disability where she cannot move, or string together sentences. We make our way through her life, enjoying laughter (an overweight doctor named Mr. Hugely – ask your kids) empowerment, and pure wonder, as this girl functions at a public school! We cannot wait to see what happens next!   -Camdyn and Bailey
Social Studies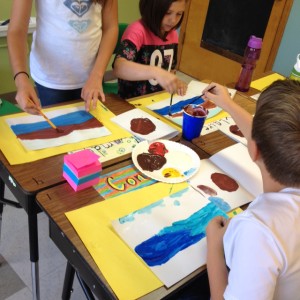 This week we worked in our unit on World Lakes and Great Lakes. Some of the world lakes we've studies are: The Aral Sea, which is shrinking fast. The Caspian Sea is one of the few salt water lakes. We also learned about Lake Baikal. It is the deepest lake in the world. It was fun learning about these lakes. It was the most fun we've had in a long, long time.   -Madi, Alli, and Grace
On Friday we learned about Georgia O'Keefe. Georgia O'Keefe was a famous artist who painted many famous paintings. We painted one of her paintings of Lake George, to go along with our Social Studies unit on Lakes. We painted it by using some mixed colors, such as white and blue, to create the light colored sky and clouds. Then for the mountains, we used yellow, brown and red.  – Connor and Alana
Art
The students continued working on their Fence Post Portraits. They learned how to transfer their drawings by rubbing pastel on the back of their sketches, and then placing the sketch on top of the wood. The students used acrylic paint to add color, and we'll need another week to finish these fabulous fence portraits!