Language Arts
We celebrate reading in our 4th/5th grade class! Our students never cease to amaze me. We had a very interesting discussion this week about our book club. Part of the class felt that the book I had picked up, La ciudad de las bestias, was a little extra challenging. We all know that the beauty of our book club is to read for fun and share with our classmates and friends our perspectives and opinions. Based on this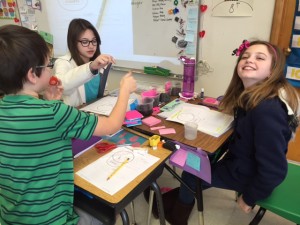 premise, we democratically decided to save Isabel Allende's book for later. And when I say later I really mean later!(ask your child). I am very confident that our students will, eventually, get where they need to be, in order to fully appreciate the book. Maybe it wasn't time yet! Big thanks to all my students for being so mature and flexible. The good news is that we had another title ready for our book club: El mundo de acuredo a Humphey! Students are very excited about this book and they are already doing an amazing job keeping up with their obligations.
Science
This week we introduced the first part of our investigation 3: Water Tolerance. One of the guiding questions we posed to our students was:  What are the optimal conditions for each of four plants: corn, wheat, barley, and peas? Students isolated one factor, water, in the environment of plants, and set up and experiment to determine the range of water tolerance for the early growth of four different plants. We also discussed the concept of Controlled Experiment. It will be very interesting to find out how the plants respond during this investigation!
Math
We started a new unit in Algebra this week. The students excitedly jumped in with two feet! At the end of this week the students have learned how to: use letters as numbers,simplify algebraic expressions, manipulate inequalities and equations, and solve real-world problems using algebra. We will dive even deeper next week!
History & Geography
The Students finished reading about Feudal Japan and have done various supplemental activities in class on the unit such as writing their own Japanese Haiku poems,  taking a reading comprehension test over Feudal Japan excerpts, and a Japanese mapping activity. Thursday they took home a new research report assignment about one particular aspect of life in Feudal Japan. This project will be due next Friday and the students will be presenting their work to the class.
Music
This week the class learned how to recognize music notes: quarter, half, eighth, dotted quarter, and dotted half. We then played a few rounds of of musical Yahtzee.  This was fun and the students are now more familiar and comfortable with their note recognition.