Language Arts 
Another short, but fully loaded and exciting week of Spanish. We spent time doing some word analysis and Spanish language structure review. It is always illuminating to hear our students' reflections as they share their views. It is good to know that I am not the only linguistics fanatic! One of our favorite activities is to practice oral language. This week we discussed how language works. How language is a living thing. It is born, it flows, it changes, it adapts, it mutates, and sometimes, it dies. During our words study sessions we took a closer look at some examples of the way words are formed: roots, prefixes, suffixes, compound words, etc. and how we use these words in context. We talked about patterns we observe in words. We also reviewed how, with some words in Spanish, number and gender need to be specific (un, una, unos, unas..)
We officially started our literacy centers, which we will be having twice a week.  Please ask your child what these centers include and what the academic expectations  are.
Science
In science, we reviewed and activated students' prior knowledge with regards to the science unit seen last year: States of Matter. Students revisited some key concepts such as characteristics of solids, liquids and gases. Student became familiar with terminology in Spanish, created their science folders, and discussed safety procedures. We conducted some simple experiments using different solids and liquids to review the inquiry process and the necessary vocabulary to launch our first FOSS science investigation: Mixtures and solutions, Separating Mixtures. One way you can support this investigation at home is to brainstorm with your child what a mixture is. You can find products in your kitchen that you can mix (make hot cocoa, bake brownies, make a milkshake)
Students took home a letter that explains what our investigation entails. Please take the time to read it with your you child and let me know if you have any questions.
Have a great weekend!
Social Studies  
In Social Studies,  we started out a new geography unit all about the great lakes of the world. Students have enriched their vocabulary and had hands-on practice with investigating maps and atlases in coming to understand what canals, locks and gulfs are, in addition to understanding coordinates of latitude and longitude, the Prime Meridian, Equator, and opposing temperate and time zones of the world. On Monday students will be bringing home any finishing work needed for our map investigations.
Math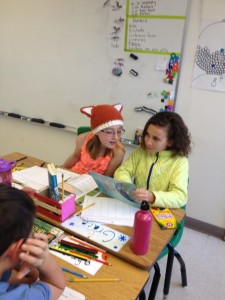 We did some review and practice with place value this week, up to the millions place. The kids worked hard to really sharpen their skills with number sense! We are looking forward to advancing our skills further next week as our numbers get higher and more complex.
Art
We started working on "Fence Portraits." Sarah is planning have a picket fence installed along one side of the school garden, and each student will paint a picture of themselves on a 6″ wide by 36″ tall fence slat. The students made a portrait drawing on paper this week, and then they will transfer these drawings to the fence piece next week. It is fun to watch this very creative group of students
during art class! (We are looking for a parent volunteer to do a quick sanding of our rough fence edges…. Please let Sarah know if you'd be up for the task!)
PE & Health
4th / 5th Graders have Health class with Ms. LeAnn on Tuesdays and PE with Mr. Jesse on Wednesdays. Many of our health lessons are active so we are asking your child to wear proper clothing (pants or shorts) and athletic shoes (sneakers) on Tuesdays and Wednesdays. Please ask your child about our Challenge: Walking to Buenos Aires!