Language Arts
This week we spent most of our Literacy time working on what our class enjoys the most: Writing! Students were responsible for writing a literary review (critica de un libro) of their favorite book. Using mentor texts, we explored the characteristics of a book review. We identified the elements of  a literary review and analyzed styles, content, vocabulary and word choice. Students were then ready to write their own. Following the writing process, students created strong informative pieces which are, currently,  in their final state of publishing. Be sure to look for our students accomplished pieces next week on our Spanish bulleting board!
Other activities in Literacy this week included:
Community circle
Assessments' scores and feedback
Word Study and Grammar: Possessive Nouns / Possessive Pronouns/ Conjunctions
Word Study and Grammar: Verbs ( infinitivo, gerundio, participio)
Independent reading time
Dictado: Palabras con

z

Literacy Centers
Reading homework sharing time
Art project: Environments
Science
In science this week we started the first investigation of our science FOSS Kit: Terrestrial Environments. After going for a nature hike, we talked about and identified the factors that make up  terrestrial environments around this area. We discussed the meaning of the word organisms and gave examples of them. For the first part of our investigation students will be planting terrariums. This week we worked on our terrarium plans. Next week students will be planting and determining what are the optimal conditions for the plants to grow. Some of our goals during this part of our investigation is for students to be able to:
1. Gain experience planting seeds of different kinds. We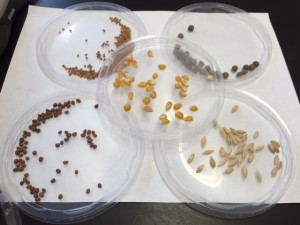 will be using clover, barley, corn, peas and radish seeds. 
 2. Observe a terrarium environment over time and record and document changes in a journal.
3. Determine the  the factors that will allow the plants grow (water, light, air, etc).
History & Geography
Instead of starting a new unit this week, as planned, we finished up some further reading and discussion around the explorers unit that was started with Ms Lisa. This culminated
Friday
in a bonus vocabulary activity complete with creative sketches made for each newly learned word or phrase about the early European explorers. Next week we will begin a new unit on Early Russia and students will be challenged with a research project to be worked on mainly from home. It will benefit students greatly to get into good study habits of keeping up on daily assignments while taking on bigger projects as part of their homework as well so as to be better prepared for the rigorous requirements of middle school to come! Early next week expect to see a rubric and expectations for your student's responsibilities for the unit. Thanks in advance for your support of your child's management of time and dedication to an increased work load at home. Lots of learning to be had up ahead!
Math
This week we worked on the multiplication of fractions and spent particular focused time on simplifying fractions when coming up with the product requiring simplest form. Next week we will take on division of fractions and will participate in some games toward further mastery of answering in simplest form. Some students will embark on new challenges in math, including some individual and group project and presentation work requirements.
Art
In 4th-5th grade art, we used paper weaving to create artwork that mimics Op Art. We looked at some Op Art by Victor Vasarely, and noted the geometrical shapes, patterns, and sense of movement. The students learned how to use a variety of lines in their paper looms to create different visual effects. Some of these beautiful designs are on display by the door to their classroom.