Language Arts
The highlight of our week was to have maestra Sally back at school! We were very excited to hear about little Finn and keep her up to date with the latest projects at SWS. We would also like to express a big thanks to Maestra Lisa for being such a wonderful "guest" teacher. We are so fortunate to have her be a part of our staff and our 4th/5th grade class !
Students did a fantastic job this week during their oral presentations, based on the reading and collaborative writing project of the book Desastre inminente.  Carefully following the details of the rubric, and through different visuals and crafts, students captured the essence of the books they read and were able to communicate the message to others in an articulate, organized, effective and engaging manner. What a wonderful outcome! Students enjoyed reading this book so much that they have asked to read all three of the collection: Volcan, Terremoto, Tornado. This is a great opportunity to continue to practice reading at home in Spanish!
Later in the week, we had an opportunity to continue with our read aloud, have independent reading time, work on spelling and use of words in context, as well as review accents marks. We a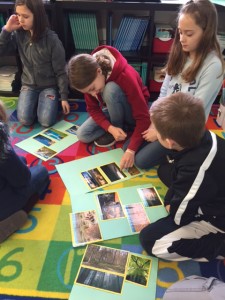 re focusing on words spelled with z this week. Students responsibly turned in their spelling sentences. They took home their revised sentences on Friday. Please make sure your child practices for our spelling quiz(dictado) next Thursday.
Next week we will be elaborating on a new class project: Escribir una critica de un libro. Ask your child to tell you what we discussed in class about this project.  Some key concepts we are:
Publico: ¿Quién leera tu critica del libro?
Propósito: ¿Por qué quieres escribir una crítica del libro?
Science
Students successfully took a reading assessment of the book Habitats y el medio ambiente. Nice work getting their reading done, paying special attention to those important non-fiction text features.
We had such great idea-communicating time. One of my favorite activities as a teacher is to do an open ended activity. I provided students with photographs of different environments. I asked them to think about what they noticed about what they were seeing on the pictures. You would have loved to hear all the interesting things they noticed, and the elaborate use of descriptive language! Students named the characteristics they observed, then they classified and categorized these pictures according to these characteristics. They came up with multiple ways of sorting them.
We have introduced a big portion of science vocabulary and concepts and are ready to start our first science investigation next week! Please make sure your child wears appropriate shoes and coats on Monday, as we will be taking a little walk around the school. Thank you!
History and Math
It is so great to be back with these kids! What an incredibly warm welcome I received upon my return. Thank you so much for all of your well-wishes and support during my absence. I am very blessed to be working among such a caring community. For these two first days back, we are doing some writing and share time around all that's happened in the past five and a half weeks. Additionally we created a winter art project of "Winter Birch Trees", which will soon be displayed on the hallway bulletin board. Next week we will begin new units in both History and Math. Stay tuned! – Ms. Sally
"While you were gone" writing task and share time.

Spelling sentences (test on Friday.)

Thank you letters to Ms. Lisa

Read aloud

Mt. Language

Winter art project "birch winter trees"
Art
The 4th and 5th graders learned about Op Art today and we looked at a some examples by Bridgette Riley and other artists. The students created their own "Op Art" design using a tracing of their hand, and a simple object such as a star or heart. They used different directional lines to create a sense of movement and dimension in their designs. The students did a great job, and you can see their work on the bulletin board along with their shoe drawings from last week
Music
We talked about classical music's "big three," Bach, Mozart and Beethoven. We watched a video biography of Beethoven, then a performance of Beethoven's 5th Symphony. The version we watched was conducted by Venezuelan conductor Gustavo Dudamel, the inspiration for the phrase "Hear the Hair," in the series Mozart in the Jungle.