Happy Holidays!
We will be sure to send a link to the video of their fabulous 12-days (once it is up).
Language Arts 
We are so excited and happy to know miss Sally had her baby this week. Welcome to this world little Finn! We all can't wait to meet you! 
We could not thank miss Ayn enough for coming into our 4th/5th grade class as a guest speaker, to share the captivating stories of her  trip to Guatemala. After hearing her touching accounts, students were left with a marked sense of appreciation for the conditions we are lucky to live in, and the desire to go places to help make the world a better place.  We are so honored to have this amazing woman as part of our SWS community. Thanks miss Ayn!
La magia esta en creer…
We had so much fun this week working on several holiday projects. After reflecting and sharing our conceptions of El espiritu de la navidad, we sang  Christmas  carols, worked on a holiday art project and decorated cookies. Our favorite project this week was our holiday writing. Some students already finished their stories! Other students were allowed to take their pieces home so they could finish the last details over the break.  I can't wait to read them all!
We culminated the week watching El expreso polar en español while wearing our cute-ugly outfits! This is one of Valentina's favorite movies, and she was so happy she got to come  in a watch it with us! Students were somewhat skeptical about watching the movie in Spanish and they discovered they were able to understand absolutely everything! The ultimate touch was added when we sang Twelve Days of Christmas in Spanish to our beautiful 2nd/3rd grade audience. What a perfect way to send our kids off to their much deserved winter break!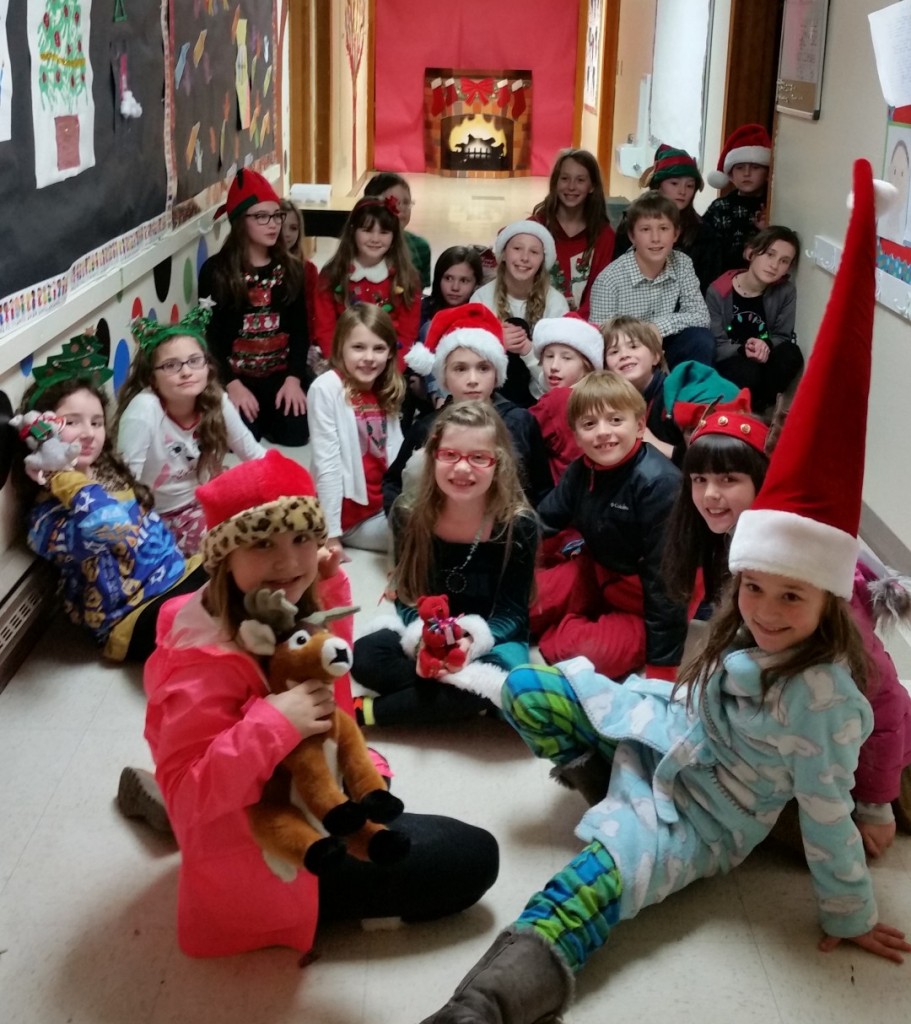 I would like to take this opportunity to thank all our wonderful families for the wonderful gifts and cards I received this week. It is such a wonderful feeling to feel so loved by my students. The sentiment is reciprocal.
English
There was a little bonus optional homework sent home.  Please ask your student about the vocabulary activities they can complete for a treat (or two or three) upon their return to school.
It has been wonderful reconnecting with this amazing group of students!  I am looking forward to our two weeks together after break!    –Ms. Lisa:)
Social Studies  
Curriculum Overview: Through our study of Kings & Queens of England from the Golden Age we having been working on the following skills:
Skill Objectives
The student uses geographic tools to collect, analyze, and interpret data.
The student analyzes the effects rulers, religions, and leadership philosophies have on England.
The student uses writing as a tool for learning and research.
The student speaks clearly and appropriately to different audiences for different purposes and occasions.
The student reads to increase knowledge of his/her own culture, to the cultures of others, and the common elements of cultures.
The student will explain how people adapt to and modify their environment.
The student communicates in written, oral, and visual forms.
The student relates music to history, to society, and to culture.
The student applies critical thinking skills to organize and use information acquired from a variety of sources.
The student listens actively and purposely in a variety of settings.
Art
The 4th and 5th graders finished painting their clay sculptures this week. These turned out great, and we wrapped them in berry containers to take home. You'll probably see them wrapped as gifts. Every have a wonderful holiday season!
Music
This week it was the class' turn to teach Sr. Kit: he had never sung a Spanish version of The Twelve Days of Christmas, so they taught him the version they had learned from Sra. Paola. We also learned Spanish lyrics to O Little Town of Bethlehem, Silent Night and Joy to the World.