Language Arts 
As we wrap up our unit, Energy in Action, our focus on Literacy this week was on two expository texts. The texts presented different ideas for discussions: our dependence on fossil fuels and the need to find alternative energy sources. Students were also invited to analyze the pros and cons of the two view points and take a stand. We talked about cause and effect situations and reviewed concepts of persuasive writing. Students also provided thoughtful ideas of how we can make a difference. It was such a rich opportunity for language development!
Other activities in literacy this week included:
Genre review: Interview
Non-fiction text features: footnotes
Spelling sentences (words with

c

 and

s). Students will be having their spelling quiz on Thursday!

Independent reading time
Personal, Demonstrative and Possessive Pronouns
Listening comprehension vocabulary preview
Subject – verb agreement
Take projects home! (It is so hard for me to part from these! Make sure you and your child take some time to look through these projects and reflect on the great work they have done!)
Holiday Art
P.S. Parents!!! Please have your child wear a cute-ugly sweater on Friday! We will be having a fun Friday holiday celebration!
Math
Students continued work with adding and subtracting mixed numbers. A practice homework packet was sent home and is due next Friday the 18th.
The 5th grade skill objectives for fractions are:
1. Identify numerator and denominator
2. Recognize equivalent fractions
3. Put fractions into lowest terms
4. Rename fractions with unlike denominations to fractions with common denominator.
5. Compare fractions with like and unlike denominator using the signs <,>,=.
6. Add and subtract mixed numbers and fractions with like and unlike denominators.
Social Studies  
In Social Studies we started a new history unit on England. We've read quite a bit about Queen Elizabeth I so far and will continue reading about the Golden Age through the Glorious Revolution.
Concept Objectives
Learn how major events relate to each other through chronology.
Understand how historical events have multiple causes and effects.
Learn how a nation's literature and arts react to its political and social development.
Science
 This week, we have completed our Investigation 3: Concentration. After finishing our sweet exploration on soft drinks, students made salt solutions and compared their concentrations. Taste was no longer a viable indicator, so we used a balance to determine the relative concentration of the salt solutions. Using scientific thinking processes, students have demonstrated strong skills to conduct investigations and build explanations. With this, we concluded our the first science unit of the year: Mixtures and Solutions.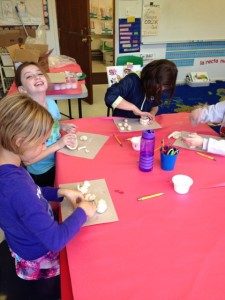 Next week we will be reviewing key scientific concepts learned! Good job scientists!
Art
The 4th and 5th graders continued working on their clay sculptures this week. They are making animals, snowmen, and even a human figure. Next week the students will paint their clay pieces and bring them home. They're all doing an excellent job! The students also helped out the first graders during their art class, and several of them made snowmen pictures which are on the bulletin board at school.
Music
The class watched two YouTube performances of the Hallelujah Chorus from Handel's Messiah, noticing differences between the chamber ensemble for which it was originally written and the popular rendition by a large orchestra and huge choir.