Language Arts 
"La imaginacion es más importante que el conocimiento" – Albert Einstein
The literacy focus this week was on biographies. Students know that a biography is a text written to inform the reader about a real person's life. Manipulating different biographies, we had a chance to observe the features they present: table of contents,  chronological order, information about the character's childhood and family, pictures, captions, headings, facts, timelines, etc. We have been reading the biography of the  prominent scientist Albert Einstein.
As homework during the holidays, students will be reading a biography of this influential character, but by a different author. After break, we will compare and contrast the two biographies, the authors' points of view and writing styles. 
Other activities during literacy included:
New spelling list: Homophones

New dictado paragraph

Grammar, Syntax and Word Studies: Verbs and Verb Phrases

Literacy centers

Quote analysis
Debate
Sharing books with first grade class.
Independent reading time
Thanksgiving literacy and art project

Math
This week we focused on adding and subtracting mixed numbers and putting improper fractions in simplest form. Every single student has worked hard to master this and many have commented that they were unsure how to this when they came across it on ALEKS and are now looking forward to going back and showing what they know in order to move ahead.
Social Studies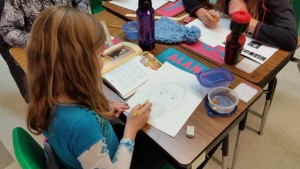 We had a great time devoting our history time this week to our research projects.
On Tuesday
we started creating very intricate drawings of our historical figure's portrait. I was so impressed with the students' work on these! They turned out looking very beautiful. We will have these portraits as well as the final reports hanging on our bulletin board in the hallway in the weeks to come. Look forward to checking them out! We voted on waiting until after the Thanksgiving break to do our speeches. Students will need more time to memorize and gather materials for costumes, as the speeches will be delivered in the first person. As of now we will aim to do speeches on
Thursday December 3rd
. On this day all reports and portraits will be finished and speeches memorized and ready to deliver (in full costume). It is not my expectation that anyone need go out and purchase items for creating costume attire. I do encourage creativity by way of using household materials (i.e. cotton balls for a beard, etc.). Any questions, please feel free to ask! Fun times ahead with the wrapping up of this enjoyable project!
Science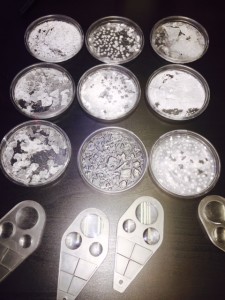 Our investigation this week entailed observing, comparing, contrasting and documenting our findings about crystals. After setting up our saturated solutions (Kosher salt, citric acid and Epsom salt) in evaporating dishes, we observed the characteristics they presented to identify them.  As a class, we discussed:  Do the crystals of materials have different patterns and shapes? What descriptive language can we use to explain how they look and feel?  With that, we finished investigation 2: Reaching Saturation. We had so many opportunities for leaning and language development, as well as fun serious science experiences! Stay tuned to know more about our next investigation!
Art
The 4th and 5th grade students continued working on their still life projects this week. Some were finishing their oil pastel and watercolor paintings, and others started a tropical still life picture using wet tissue paper for the color. I am saving all their beautiful artwork and will send it home sometime during December. Have a Happy Thanksgiving!
,