Please be on the lookout Monday for a signup sheet as we gear up for December 4th conferences!
Language Arts 
In Literacy, we dove into our new unit Energy in Action! During oral language development, we discussed and shared our thoughts about what we know about energy. Some of the guiding questions involved: What is energy? What different forms of energy do we know? Do we use more or less energy than our ancestors did and why? Is energy the same as power? After having an insightful discussion, students were asked to read an expository text that presented information about the topic discussed.  This was a great opportunity to review non-fiction text features.
Students are reading Albert Einstein's biography. On Friday, they took a short homework packet which is due on Monday. Please make sure your child is prepared to discuss and answer questions about their reading next week.
The highlight of our week was, without a doubt, reading our books to the Kindergarten class. Our accomplished  4th and 5th grade authors did a remarkable job sharing their magnificent writing pieces. Thank you so much maestra Sarah and the kindergarten class for being such a respectful and wonderful audience!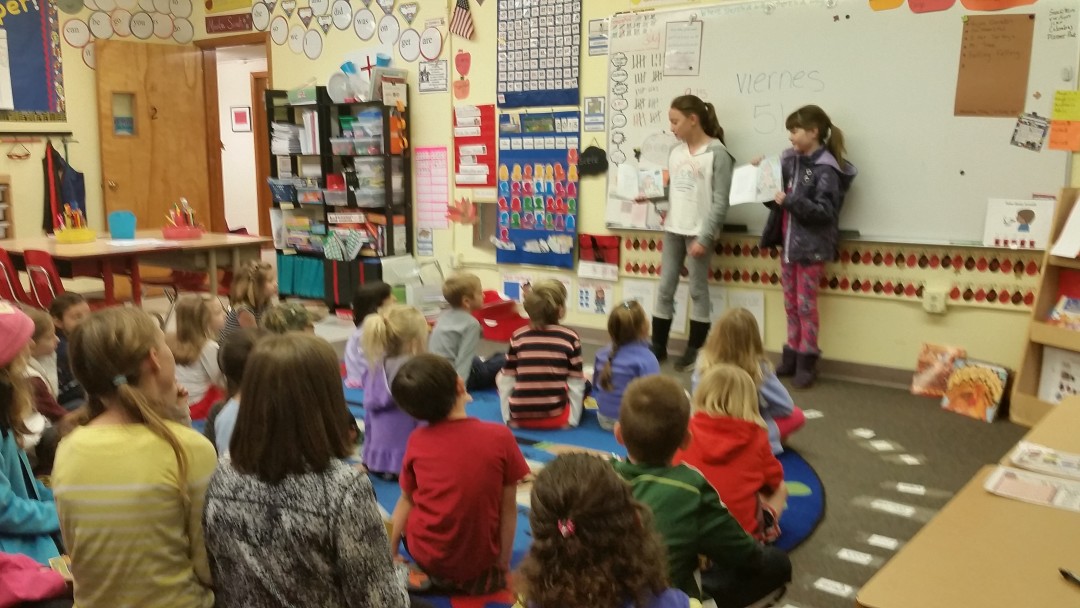 Math
This week we dove into adding and subtracting fractions and mixed numbers. The students were very focused and engaged as we worked toward mastering the steps involved with each. Next week we will continue working with mixed numbers specifically. Homework practice packets are due on Tuesday of next week.
Social Studies  
In Social Studies, we began research on our reports. Students chose an important Renaissance figure to investigate and write about. Next week we will be creating a portrait of the individual and finally, dressing up as and giving a speech in first person to share all about his life. Right now speeches are planned for next Friday afternoon before our Thanksgiving break commences.
Science
 After reviewing concepts previously learned (Saturated Solution), we conducted the third part of investigation: The Saturation Puzzle! Students were presented with a "mystery material".
"This chemical was in the kit with the salt and citric acid, but there was no label on the container". Our challenge was to find out what the mystery material was, based on our knowledge of the properties of known materials and interpreting the data on a chemical data sheet. Working collaboratively, students came up with their own plans, made their predictions, selected their tools and carried out the experiment. Students did a fantastic job solving the mystery!