Language Arts 
In Literacy this week, students worked on identifying adjetivos  y adverbios. Reading different sentences and paragraphs, we were able to see how adjectives modify nouns. Similarly, we also determined how adverbs modify verbs, adjectives and other adverbs.
Students  received their new
spelling list. Once again, they did a great job coming up with very creative sentences for the
dictado
we will have next Thursday. Some of the goals for our students during word work are to be able to
identify
patterns in words and
transfer
  the new words they learn to other contexts. Students' word bank has increased tremendously and we can observe this growth through their writing. During this week, I had a chance to sit down with all students and provide feedback on their writing. Most of the editing has been done and we can't wait to see all pieces published!  We will be very excited to share our pieces with you all  next week!
Math
We had such a great time this week learning how to solve numeric expressions using the proper order of operations. Every student picked up on and mastered this within the week! Many really enjoyed it, some looking forward to working more from home on continued practice! I was really proud of everyone's hard work. Monday we'll start a new chapter. We're moving right along!
Social Studies  
We finished our reading and exploration of the Renaissance and Reformation this week. Next week we will begin an exciting project to show what we know! The project, to be explained
on Monday
, will be a fun opportunity for hands on, independent learning and presenting. Stay tuned for details!
Science
"Do you like it when a glass of super-sour lemonade makes your lips pucker? Do you like having a piece of sour candy that makes your eyes water? If something that leaves a sour taste in your mouth is okay with you, then you're a fan a citric acid!" This week, we spent our science time investigating the properties of this acid. We found out that citric acid is a white, solid acid. We also discovered, through our investigation, that it is highly soluble in water. Ask your child to tell you about this experience. We talked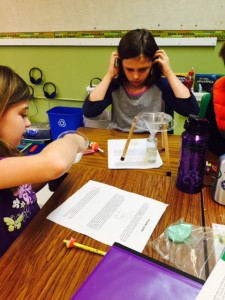 about  where we find this acid in its natural form and we got to taste some delicious citric fruits. Good job everyone turning in and sharing their experience with their science homework packets. The goofy putty and the slime are a blast!  What a great science week.
On Friday, your child took home conversation cards. There are several questions that are meant to be discussed and answered as a family. The questions are in Spanish, so your child's job is to read and explain these questions to you.  Have your child be prepared to share what the family discussed on Monday. Have a good weekend!
Art
In 4th and 5th grade art, some of the students needed to finish their eagle drawings. Be sure to look at their beautiful drawings on the bulletin board at school, which celebrates Veteran's Day. We also started a still life resist painting for Thanksgiving. The students looked at fall fruits and vegetables, and created great designs with oil pastels and watercolors.