Social Studies  & Math
We had a great first week! I enjoyed getting to know this wonderful group of learners as we did some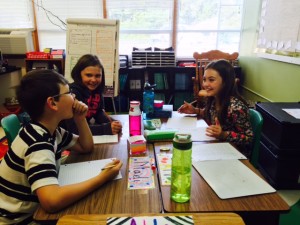 team building activities, group math challenges, and touched base on some language, grammar and spelling. Today we reviewed the year's curriculum at a glance and will hit the ground running next week with some great new topics in both math and history/geography. Be on the lookout next week for daily recordings in your student's planner. You will find not only what was covered during the day, but what homework is to be completed as well. Looking forward to week two! See you then. ~Ms. Sally
Language Arts & Science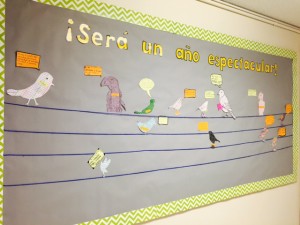 What a fantastic first week of school we had! It was so wonderful to feel all the excitement and energy our students had throughout the school. Thank you so much, once again, to make sure that your child comes to school ready and prepared. We are all looking forward to an exciting year.
Our students worked really hard this week on an exciting collaborative writing project.  They were responsible for writing our first newsletter. Please have your child read it to you and tell you the great work they all did! Let me know if you have any questions.
Extra, extra!!!! Noticias de 4to y 5to grado!!! Extra, extra!
El martes fue nuestro primer dia de escuela. Este dia empezamos el proyecto de pajaritos que consistia en ideantificar nuestras caracteristicas para asi contribuir a formar una clase exitosa. Luego, hicimos el juego piccionario de lo que hicimos durante el verano. Era muy divertido adivinar que hicimos durante nuestras vacacciones. Tambien queremos mencionar que estamos muy contentos de tener Alana y Connor en nuestra clase.
-Por Azalea, Connor, Alana, Grace
El primer dia era muy Bueno, pero la diversion no termino ahi! Empezamos el dia jueves con las ciencias. Construimos un libro con el titulo Microbios (esperemos que todos practiquen su lectura este fin de semana y que se  eseguren  de colocar  su carpeta de libros en mochila todos los dias}. Ademas, hicimos la introduccion de nuestro programa de estudios de lenguaje. Hay tres proyectos muy divertidos para este ano. Hablamos un poquito sobre las reglas del recreo, honrrando a nuestros estudiantes nuevos Alana (5th) y Connor (4to). Luego, aprovechando que estabamos afuera, tambien hablamos de nuestro jardin y el espacio de aprendizaje de afuera.
– Por Camdyn, Madi, Santiago, Bailey
Y para terminar,  esto es lo que hicimos el viernes: primero nosotros leimos Que Tal, la revista favorita de la clase. Luego trabajamos en ortografia por primera vez. Estas van a ser las palabras para la semana. Finalmente miramos y contamos los materiales de ciencias que estaremos utilizando en nuestra primera unidad: Mezclas y Soluciones. En resumen tuvimos una primera semana fantastica.
– Por Alli, Carsen, Eva, Riley, Alli
Ortografia (Spelling Words)
bambu
plantar
estacion
placer
compas
imprimir
aprendi
agricultor
educacion
cazador
mama
seguir
ningun
quizas
corazon
tapiz
razon
pincel
atras
caminar
Art
In 4th&5th grade art, the students made beautiful graphic designs by combining the letters of their names with patterns and pictures that surround the letters. They learned that extending letters to the edges of the paper, making the letters touch, and using slanted letters, helped create intriguing designs. See if you can decipher their names in these colorful designs which are on the bulletin board at school. ~Ms. Kelly
Character Education
Our focus during the month of September in Character Ed will be kindness.  We will be getting to know our new friends, reconnecting with familiar ones, and learning to demonstrate kindness together.  Our primary means of teaching will be through read-aloud books and stories, followed by fun activities to engage each student to pursue this trait. ~Ms. Lisa
Music
This week we reviewed the 4th grade core curriculum, finding some elements that we'll want to cover this year and practicing songs from our years together that bear out some of those concepts. We also briefly discussed some ideas the kids are eager to cover this year, including composing and scoring some new songs. ~ Señor Kit