Lenguaje
We are so proud of our talented 4th/5th graders as they turned in their books reports and shared the beautiful  art pieces!
This week we were so fortunate to have some stellar guest speakers come into our 4th/5th grade class to talk about their cultural heritage. We were able to listen to their wonderful stories, learn so much about their culture and the way they continue to celebrate their traditions, here in the United States. AS we start wrapping up our unit, Cultural Heritage, we thank these community member for allowing us to have a meaningful and authentic connection to the theme.
Ciencias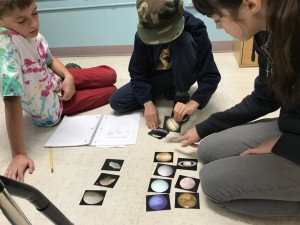 The Solar System
This week students were introduced with the following guiding question: How do the parts of the solar system interact? Students worked with a set of solar system cards. Based on previous knowledge, information on the cards, and information provided by the teacher, students organized the objects into different categories according to their characteristics. We introduced vocabulary and were able to compare and contrast the different pictures and classify them according to the characteristics we observed. We will continue with this investigation next week.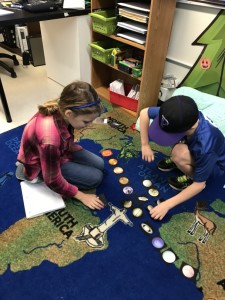 History & Geography
This week we continued studying the Renaissance. Our objectives were:
identify Leonardo da Vinci, recognize the major achievements of his career and his importance to the European Renaissance
Identify Michelangelo Buonarroti, describe the greatest achievements of his career, and his importance to the European Renaissance
Identify Baldassare Castiglione and recognize the importance of The Courtier
Identify Niccolo Machiavelli and understand the importance of The Prince
Understand the impact of the Italian Renaissance  on the rest of Western Europe, how ideas of the Italian Renaissance reached other European countries
Identify important figures of the Renaissance in France, England, Germany, and Spain and identify their works
Next week we will have Renaissance day on Friday! Students can dress up and we will do some fun activities!
Mathematics
This week we worked with fractions. Our objectives were:
Add and subtract two unlike fractions where one denominator is not a multiple of the other
estimate sums and differences of fractions
understand and apply the relationships between fractions, mixed numbers, and division expressions
English Word Work
This week we began a new spelling rotation. Our rotation days were:
Word Search: Students received a word search with their new spelling words. They were tasked with finding and sorting their new words.
Teacher Meeting: I met with each student to discuss and clarify their new sort.
Vocabulary: Students dug through an excerpt from The Courtier to find words to add to our word wall. The words we found were tunable ness and comeliness
Spelling City: Students had a chance to work on computer skills as well as spelling on spellingcity.com
We will have our next spelling test on Tuesday, Halloween!
Specialists
ART: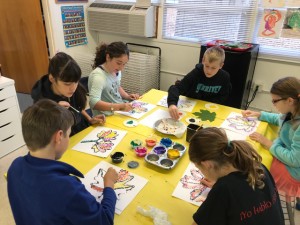 The 4th and 5th graders finished their felt fabric Molas earlier this month, and I am keeping these and all their artwork at school for now. We will decorate a portfolio to hold all their beautiful artwork soon!
We also did several autumn leaf projects: Leaf rubbings with a single large leaf, leaf rubbings with overlapped shape designs, and leaf printing with white tempera and sponge painting.
Owen brought in a book about Aboriginal dot painting which we used as inspiration for leaf dot paintings similar to the ones made by 2nd and 3rd grade. The students used warm and cool colors to create some beautiful leaf designs.
We also looked at several examples of Renaissance Art – Leonardo, Raphael, and Michelangelo – to go along with Maestra Ivary's lessons on the Renaissance. We discussed the difference between a Medieval and a Renaissance painting of Madonna and Child, where the students could see the obvious differences in the 2 styles.
The students reviewed Value (light and dark, or shading) as an Art Element, and they used different values of orange to create some very beautiful oil pastel drawings of pumpkins that are on the bulletin board at school.
used oil pastel to create "sfumato" (smokey) effect in a pumpkin drawing.
Next month – Picasso art projects!
– Practiced singing melody and harmony
– Sang Beauty and the Beast in unison, and sang melody and harmony with Edelweiss from 'The Sound of Music'
– Learned Eighth, Sixteenth, and Dotted Eighth with Sixteenth note rhythms
– Sang Canons (rounds) with 'I Love the Mountains' and ' Dona Nobis Pacem'
– Learned the time signature 6/8, and how to clap rhythms in 6/8 time
– Learned and sang the song Greensleeves, The Addams Family, Git Along Little Dogies, and Monster Mash
– Watched violin and piano duet performances of pieces by famous composers Saint-Saens and John Williams
– Drummed rhythm pattern "1 – 2 & – 3 – 4"
Plans for November include:
– Sing along well-known songs with acoustic guitar accompaniment
– Learn more about Ludwig Van Beethoven, and listen to his Symphony No. 5, Moonlight Sonata, and other impactful works
– Learn about Sharps and Flats, and how they alter notes and key signatures
– Improve harmonization skills in singing
– Learn rhythmic syncopation, and how to emphasize syncopated beats (using song Jericho for example and practice)
Character Education with Ms. Jennie
In November, our theme for character ed will be Compassion and Generosity and we'll be setting up our 3rd Annual Giving Tree for Share. Believe it or not, it's that time of year again! Look for the tree and the gift tags in the hallway but the second week of November. Information about the specifics of the Giving Tree will also be posted in the hallway, and we'll send out more details in an upcoming newsletter as well. Our quote of the month is: "Those who are happiest are those who do the most for others." – Booker T. Washington and our featured poem is another seasonal one called "The Turkey Shot Out of the Oven" by Jack Prelutsky. Now that we've learned all the literature circle "jobs", we will also be breaking into groups to discuss our book The Next Seat, with each student have a different job every week.