Literatura
This week we continued to practice  our literacy routines. We put emphasis on personal work ethic, staying on track complying with obligations and meeting high quality standards doing our personal best.  Students are required to write daily on their planners important information to remember and homework. They are expected to bring their planners to school every day and turn in assignments when scheduled.
This week our students concluded their first diagnostic writing assignment. We wanted to give some special thanks to Maestra Ivary, Maestra Sarah and our 2nd/3rd grade class for being such a wonderful and respectful audience during our solar eclipse presentations. Our students were able to share their personal narratives and fabulous posters. We still have a few students who will be presenting on Monday! Please make sure you stop by to read the Spanish bulletin board in the hallway.
Other objectives for this week:
Be able to work collaboratively, take turns, and share their ideas and thoughts in a respectful manner, as well as when manipulating resources and supplies
Go through the writing process to write a personal narrative
Follow protocol to do an oral presentation in front of an audience
Apply grade level spelling and sentence structure accuracy
Verbs in simple present and simple past tense
Palabras agudas
Understand home reading expectations in Spanish
Ciencias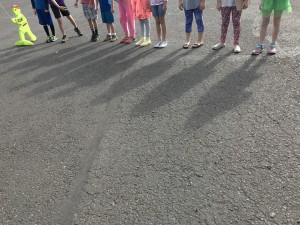 What is a shadow? How is a shadow formed? How and why does your shadow change during the day?
Students traced their shadows in the morning and afternoon, and compared the tracings. They used this information to determine the position of the Sun as it appears to move throughout the day. Students concluded that shadows are the dark areas that result when light is blocked. Shadows change during the day because the position of the Sun changes in the sky. Remarkable!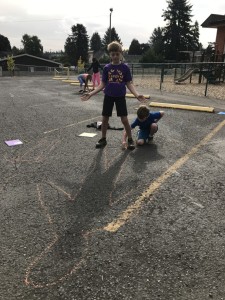 History & Geography
This week we finished our unit on World Lakes! Our objectives were:
Discover the ways in which South American lakes are important natural resources
Describe Lake Titicaca, Lake Maracaibo, The Great Lakes, Lake Baikal, the Caspian Sea, and the Aral Sea
Identify the resources provided by Lake Titicaca and Lake Maracaibo
Describe how ships travel from lake to lake in The Great Lakes
Explain the differences between freshwater lakes and saltwater lakes
We also had our unit test on Friday. Students will receive their tests back on Monday!
Mathematics
This week we continued working with whole numbers by comparing, rounding, and estimating. Our objectives were:
Compare numbers using a place-value chart and compare numbers greater than 1,000,000
Find rules to complete number patterns
Round numbers to the greater thousand and the thousand that is less
Using rounding to estimate sums, differences, and products
Use front-end estimation with adjustment to estimate sums and differences
Use compatible numbers to estimate quotients
We will have our Chapter 1 test on Monday!
English Word Work
This week began our first round of our spelling rotation! Our objectives were:
Use word searches to find our words and understand their sorting patterns
meet with Ms. Ivary to receive our word lists and clarify our sorts
use dictionaries to add adjectives to our word wall
Use Spelling City to practice spelling our words
A reminder that the spelling test is on Tuesday!