I am so thankful for my wonderful students, the amazing teachers I get to work with, and our incomparable SWS community.  I could not feel more fortunate to be a part of all of this! I hope you all have fantastic Thanksgiving holiday celebrating with your loved ones.
Literatura
The focus in literacy this week was writing letters. We identified different purposes for letter writing and compared and contrasted informal v/s formal letter formats. This included tone, word choice and elements and format of letters. Students did a fantastic job going through the writing process to write letters to our school principal, Sarah Segall. Students maintained a professional, educated and polite tone, and used elevated vocabulary and word choice. I would not be surprised if maestra Sarah considers some of our students' requests as legitimate options to be implemented at our school! Great job writers!
Continuing  with literacy, we read Circulos, cuadrados y dagas: Como miraban el cielo los nativos americanos. It was incredibly meaningful to read this story this week, not only because we are really enjoying our science studies, but because we feel very passionate about the wisdom and history of native peoples. Some of the listening/reading comprehension strategies and skills were: Making Connections, Asking Questions, Summarizing, Identifying  Fact and Opinion and Comparing and Contrasting information from text. It is beautiful to see students naturally apply these skills and, most importantly, see them reflect on their own individual and collective learning experience. As part of our word-work studies, we went through the vocabulary and structures. We also discussed the genre and revisited characteristics of an expository piece.
As we read the story, we were reminded that:
the purpose of expository text is share information with the reader.
in expository text, information is presented in straightforward way.
diagrams, photograph, maps, or other illustrations may be included to help the reader understand the subject.
the factual information can often be checked by referring to other sources.
the need, as an author, to remain objective in the information presented.
In science we had a lot of fun finalizing the details of our solar system and constellations studies. Please make sure you stop by our wonderful bulletin board created entirely by our students! We learned interesting facts reading a story and watching some videos that are part of our FOSS resources.
All in all, we can say we had a very productive and full week of fun!
Just a few reminders…
As homework, students were assigned to stop by the post office to drop off the letters we wrote in class. Please make sure your child has a chance to do this sometime during the week. Everybody in our class will be expecting to receive a letter! 
As part of their reading in Spanish homework  students took home a biography of Albert Einstein.
Students took home a new spelling list of homofonos. They were reminded to do the sentences at some point next week  and turn them in the Monday after the break.
History & Geography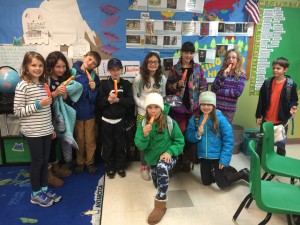 This week we had a short week, we were able to finish our Reformation unit and take our unit test though! Our objectives were:
Explain why religious leaders did not accept the ideas of Copernicus and Galileo
Describe the theories of Nicholas Copernicus and Galileo
Describe the causes and effects of the Catholic Church's attempt to reform itself
explain how Ignatius of Loyola and the Jesuits, the Council of Trent, and the Index of Forbidden Books contributed to the Counter-Reformation\
Complete the unit test as a class
When we come back from break we will go back and finish the 4th grade chapters we missed out on last year!
Mathematics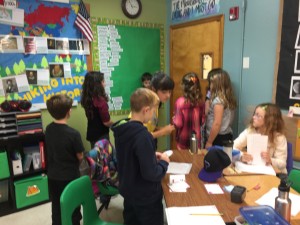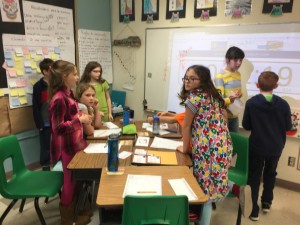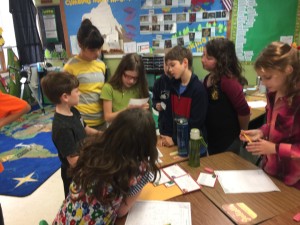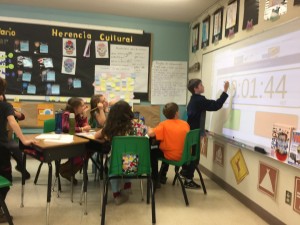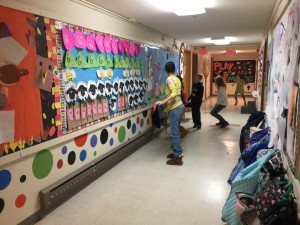 This week we finished our unit test and test corrections. Our objectives were:
demonstrate mastery of fractions and mixed numbers on the Unit 3 test
complete test corrections for any incorrect or partially incorrect problems on the Unit 3 test
Complete a Division Room Escape
We had a blast on Friday with our Thanksgiving themed Division Room Escape! We will definitely being doing more of them in the future! Over Thanksgiving break kiddos should be working on their Book Report and Khan.
English Word Work
This week we finished our rotation. We tested on our words using the Blind Sort method on Thursday. There is no spelling over Thanksgiving Break!
Specialists
The Giving Tree: Our annual giving tree is now available in the hallway outside the K/1 room. Please feel free to grab a tag (or more) to help a family in need celebrate during this holiday season.