Literatura y Ciencias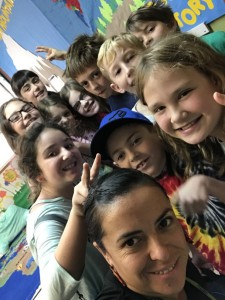 Establishing Our Community of Learners/Facilitators
What a wonderful first week of school we had! It was very exciting to see everybody come to school well prepared and ready to work. Maestra Paola was very impressed to find out that our students were eager to share their fun summer adventures in Spanish! We had students bring a significant object that represented their summer and do presentations to the class. If your child has not done it yet, please remind them to bring something next week, if they wish.
This week we discussed 4th/5th grade expectations, school procedures and practiced routines and transitions. Students also became familiar with their materials, binders, books and journals. Next week we will continue to learn literacy routines such as dictado, spelling, at school/at home reading expectations and word work. As a group, we identified and set our goals and worked on a plan of action for a successful year. Next week, we will be setting individual academic goals.
In connection to our Fall Science Module: Earth and Sun, we started our first writing assignment. We are writing a personal narrative about our solar eclipse experience. I wish you all could have been there to feel the electricity in the environment. The pieces are absolutely remarkable and they just got started! Please be sure to read our published pieces on our Spanish bulletin board before the end of next week.
Fall Science Module Overview
"The Earth and Sun Module provides students with experiences to explore the properties of the atmosphere, energy transfer from the Sun to Earth, and the dynamics of weather and water cycling in Earth's atmosphere. Other experiences help students to develop and use models to understand Earth's place in the solar system, and the interactions of Earth, the Sun, and the Moon to reveal predictable patterns—daily length and direction of shadows, day and night, and the seasonal appearance of stars in the night sky. Students gain experiences that will contribute to the understanding of crosscutting concepts of patterns; cause and effect; scale, proportion, and quantity; systems and system models; and energy and matter."- FOSS Next Generation
History & Geography
We had a great first week of school! Everyone was excited and eager to jump right in. We began our first unit, World Lakes. Our objectives were:
Learn typical procedures and expectations for a history lesson.
Learn about the first day of school around the world
Review world geography terms and skills from 4th grade
Discover resources and benefits that Lake Tanganyika African lakes provide to people.
We are also putting emphasis on using our planners and being responsible this year. Important dates and events (such as tests and homework) will be written in planners. Please, encourage your student to use their planner every evening.
Mathematics
This week we began our first chapter, Whole Numbers. Our objectives were:
Learn procedures and expectations for a typical math lesson.
Count by ten thousand and hundred thousand
Write numbers in standard form and word form
Read numbers to 1,000,000 and 10,000,000 by periods
Write numbers to 1,000,000 and 10,000,000 in expanded form
Students will be coming home with math packets for at home reinforcement. These do not need to be turned in unless marked with a "homework" stamp. This is part of their responsibility!
English Word Work
This week we reviewed our new spelling schedule.  Students will receive their spelling lists on Tuesday next week!
Day 1- Spelling Word Search
Day 2- Meeting with Ms.Ivary
Day 3- Vocabulary Building
Day 4- Spelling City
Day 5- Notebook Writing
Day 6- Test
Students will receive their spelling lists on Tuesday next week!
Specialists
Music with Ms. Erin
I'm excited to be on board teaching music this year at SWS!
For the month of September I will be introducing the Kindergarten class to music ideas involving high and low sounds, fast and slow tempo, basic rhythms, and starting Solfeggio singing.
1 st and 2 nd grade will be reviewing and learning those same musical ideas, adding new knowledge including more extensive Solfeggio practice, and learning all about the famous composer Johann Sebastian Bach!
3 rd and 4 th grade will be reviewing all that they have learned, adding more complex rhythms, and learning about the American composer John Philip Sousa.
I will bring in my electric piano for all grades to play music games and sing along with on the 3 rd week of September. All grade levels will be given custom made music theory coloring pages to have fun with and help them exercise the music terms they learn. All grade levels will learn to sing popular songs like Twinkle, Twinkle, Little Star; On Top of Old Smokey; This Little Light of Mine.
Art News
It was great seeing everyone back at school on Wednesday! A special THANK YOU to Tamra's mom, Barbara, for helping out in the Art Room! The students observed real sunflowers (planted by my grandson Landon), and we looked at a Van Gogh sunflower painting and some Georgia O'Keefe flower paintings. The students then drew and painted their own unique and gorgeous sunflower blossoms! These are on the bulletin board in the hallway.
If you would like to help out in the Art Room, there is a yellow VOLUNTEER SIGN-UP sheet posted on the bulletin board by the Art Room door. The 4/5 class meets from 8:45-9:45.
As a reminder, it's a good idea to have your students wear OLDER CLOTHES on Wednesdays that you don't mind getting paint, oil pastel, marker stains on 🙂
UPCOMING SEPTEMBER ART UNIT: Kuna Indian Molas
To go along with their study of Early American Civilizations, the students will learn about the Kuna Indians of Panama, and create a felt fabric design similar to the beautiful appliqué fabric made by Kuna women.