Language Arts 
We, as a class, are working on only communicating in Spanish.  We have observed that the students typically communicate with their Spanish teachers in Spanish. They also tend to mainly use Spanish in teacher directed activities but then resort to English when interacting with their peers. The students did an absolutely fantastic job of using Spanish for the large majority of their afternoon classes.  I am so proud of them! (I think they were proud of themselves also.)
The students received two new books on Friday. They will receive a reader's response sheet on Monday to accompany book #15.
This week we spent a lot of time working with descriptive details. We read the great story, Por los ojos del abuelo. This story is about a grandson following his blind grandfather and realizing the importance of all our senses. The class was able to brainstorm the five senses for our word study journals and the descriptive adjectives that enhance the experience for the reader.  We used these to write a class description of our lunchroom.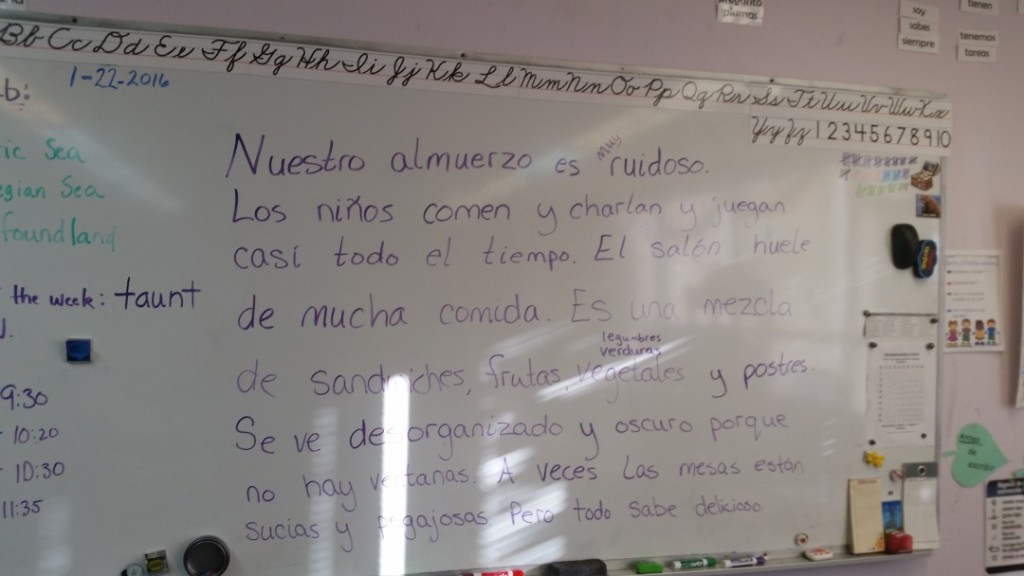 Spelling/ ortografia  (ll digraph) – Test on Tuesday, 1/26

millón – million

valla – fence

orgulloso – proud

tobillo -ankle

batalla – battle

estampilla – stamp

calle – street

semillas – seeds

llegaba – he/she arrived

llevar – to arrive

llamado – called

maullar – meow

llena – full

enrolló – roll

follaje – foliage
Math
This week we began our new unit Using Bar Models:Multiplication and Division. Both multiplication and division are based on the concept of equal groups, or the part-whole concept, where each equal group is one part of a whole. A bar model can show one or two steps, where some amount might be subtracted from the whole, or added to equal groups.  Also, two separate sets might be comopared, showing one whole being a multiple of another whole.
Drawing bar models provides students with a systematic means of organizing information and determining the calculations needed to solve a problem. Bar models simplify the problem by showing clearly what steps need to be taken to answer the question.
The students received a rather large math packet for home reinforcement of the lessons we are doing in class. There is no due date yet. Each day the students are write the current lesson we have covered in class that day. Each page in their packet also has the corresponding lesson number.  So far we have covered lesson 9.1 (using bar models to solve one-step multiplication word problems) and lesson 9.2 (using bar models to solve two-step word problems and choosing the correct operations in two-step word problems).
Social Studies  
We finished reading about our Viking unit this week.  The class has enjoyed learning about the Nordic people and listening to the stories about their lives and sagas.  We heard the idiom "Rule the Roost" and found out where the original meaning came from.  The class wrote out more responses to the readings this week and also wrote a letter reporting on life in Iceland from the perspective of one of our read a loud characters, Bjorn.  We also watched a short movie on Viking life, which showed what a viking village and ship might have looked like.  On Friday we began reviewing for unit assessment which we will have next week.
Science
Everyone did a wonderful job of presenting their Light and Sound experiments this week!  What a variety we had, I loved being able to listen to all these great ideas.  Thank you parents for running to the store for supplies, applying the glue gun, being the guinea pig, or what ever else you did in order to assist with putting together these experiments at home. Thank you too for coming in the middle of the day to listen to the presentations in class, it always is so special to have you there.  Along with our presentations we also read several trade books on sound and  reviewed for our assessment on our Light and Sound Domain.  The class took their assessment on Friday.
English Spelling/Writing
The class had free choice in journal writing this week, but I did give them a writing prompt of what they would tell or ask an animal if they were to find out that animals could suddenly talk.
We got our new sorts this week.  Students now only have to complete 15 pts. for their activities.  Over all everyone did very well on their test.
We are starting something new in our class this week.  Some of the students have expressed interest in contributing to our weekly news letter.  Each week a different student volunteer will write a review of happenings from the week prior and then this will be included in our newsletter.
A Week's Review by Hazel

Last week we learned about Vikings.  We heard about Bjorn and Toli who were Norsemen, and how now they are becoming Vikings.  So they are sailing on a Knarr to Iceland.  Did you know that Knarrs only were for carrying cargo and people?  They weren't for battle.  Bjorn was sad to leave his homeland of Norway, but Toli was so excited.  In my opinion it was a good week to learn about Vikings. 
Art
The 2nd and 3rd graders finished their woven bookmarks today. They all did a great job! While they were weaving we listened to a CD of Señor Kit's harp music. A very relaxing art class!
Music
This week we talked about the life and works of George Gershwin. We listened to and discussed the instruments in Rhapsody in Blue.