Literatura
This week we took our first unit assessment and began our new unit. Our unit assessments consist of a comprehension, vocabulary, grammar, and writing piece. We spread our assessments out over two days to make it more manageable. These assessments are used to keep track of the progress our class is making throughout the year. Our objectives this week were:
Students will demonstrate their comprehension and writing ability and understanding of grammar and vocabulary on the Unit Test
Introduce new story and new unit WIld Life in the City
Define new spelling words
Create visual spelling list
Take spelling test
Matemáticas
This week we worked with real-world addition and subtraction problems. Our objective was:
use bar models to solve 2-step real-world problems involving addition and subtraction
Real world problems involve a lot of steps. They must not only understand the story problem and what it is asking for but they must also know what steps to take to get the final answer. Students worked really hard this week and the biggest thing we noticed is that we need to slow down and take each problem step-by-step. We will continue working on real-world problems next week and take our assessment.
History & Geography
Social studies with Ms. Marci.
This week we had a great time dressing up like Roman gods and goddesses.  Each person introduced their goddess/ god and describe them.  We also learned about the Roman Republic and played the "Who Am I Game", identifying patricians, plebeians, slaves, senators, and consuls.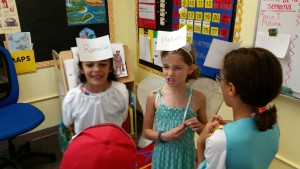 Our objectives were to:
•  identify and locate on a map the following: the Mediterranean Sea, Italy, Rome
•  Identify and describe ancient Roman gods and goddesses
•  explain why ancient Rome was considered a civilization
•  compare and contrast the three categories of people in ancient Rome:  patricians, plebeians, and slaves
•  describe the evolution of government in ancient Rome from monarchy to republic
•  describe the importance of forums in Roman society and government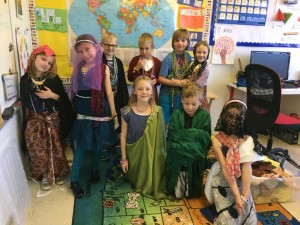 Social Studies with Ms. Laura: We completed our study of Ancient India with a review, an assessment, dressing up and having a special snack, including ghee, the sacred offering to the Hindu god of fire, Agni.  We read Ms. Frizzle's Adventure Imperial China to preview our next unit on Ancient China.  We heard about important rivers, farming rice, drinking tea, honoring relatives and ancestors, important Chinese inventions, The Silk Road, The Great Wall of China, The Emperor and Chinese New Years.  We began our study of Ancient China by locating two rivers, Huang He (Yellow River) and the Yangtze.   We talked about why rivers are both helpful and destructive, comparing the importance of these rivers to those of Ancient India.   We talked about the basic principles of Confucianism and tried to see its influence on Chinese government and culture.
Science 
This week in our Animal Classification domain we continued to learn about mammals. The class is preparing to write an informational paragraph/ paragraphs on an animal. They have begun to plan and gather information this week.
Our objectives this week were to: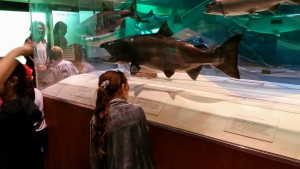 •  observe and describe basic characteristics of an animal
•  identify basic characteristics of mammals
•  classify particular animals as mammals
•  compare and contrast two groups of warm-blooded animals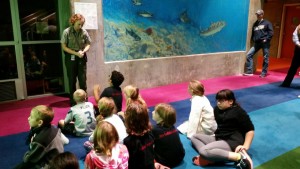 English Word Work
We took our spelling test on Friday. This week we worked on sorting in different waves in order to help us remember spelling patterns. For grammar, we reviewed predicates in sentences.
In our journals we used this week's vocabulary word, "eerie" and we also wrote about our field trip.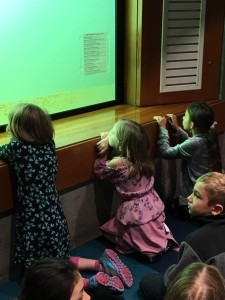 Thanks to everyone who drove on our field trip. It was not only a beautiful day but a great success.
Specialists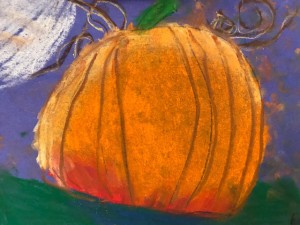 ART: 
This month the 2nd and 3rd graders learned about Australian aboriginal dot painting. The students created turtles, fish, and lizards, using q-tips dipped in tempera paint.  Then they used this same technique with fall leaves using warm colors in the leaves and cool colors in the background. The students really enjoyed this project and created some beautiful patterns and designs.
The 2nd and 3rd graders also worked on leaf rubbings with crayon and watercolor. They learned how to overlap shapes, and use warm and cool colors to create some beautiful leaf designs.
We also discussed Value, or light and dark, in the artwork. We looked at a Vermeer painting with strong lights and darks, and then the students used chalk pastels to create light and dark sides of a moonlit pumpkin.
Next month – Picasso art projects!
Character Education with Ms. Jennie In November, our theme for character ed will be Compassion and Generosity and we'll be setting up our 3rd Annual Giving Tree for Share. Believe it or not, it's that time of year again! Look for the tree and the gift tags in the hallway but the second week of November. Information about the specifics of the Giving Tree will also be posted in the hallway, and we'll send out more details in an upcoming newsletter as well. Our quote of the month is: "Those who are happiest are those who do the most for others." – Booker T. Washington and our featured poem is another seasonal one called "The Turkey Shot Out of the Oven" by Jack Prelutsky. Check out the bulletin board to see what books we'll be reading as well!
– Learned how to read notation for the Treble and Bass clefs
– Learned about string, brass, and woodwind orchestral instruments
– Featured the cello (student share) and clarinet (teacher share) in the class
– Listened to pieces by famous composers Bach, Saint-Saens, Mozart, Debussy, Rossini, Gershwin, Grieg,
– Learned and practiced rhythm patterns in 4/4, 3/4 and 2/4 time
– Learned musical terms Accelerando, Ritardando, and Rallentando (gradually speeding up and slowing down)
– Learned about the life of composer Antonin Dvorak, and listened to an except of the New World Symphony, and his piece The
Noon
Witch
Plans for November include:
– Build familiarity with the acoustic guitar
– Sing along well-known songs with guitar accompaniment
– Learn about the life of Tchaikovsky, and listen to his suite from Swan Lake
– Practice note reading in the key of C major
– Learn and practice rhythms using Eighth Notes