Language Arts
What a busy week! We read a new story about young entrepreneurs who have been successfully working at things they love at very young ages.
We learned all about writing formal letters. We read a book, Un policia bilingüe, about a funny bilingual police officer and decided to write a formal letter to his captain. We learned all about headings, salutations, the body of the letter, closing, and signature.  During this process we realized many students do not know their address.  We talked about why this is important (safety!!). Please work on this!
Students are in the final stage of the writing process for their realistic fiction piece.  They have their final draft and their little book. They can work on their illustrations and neatly copying their work. They've been very excited about this process and I'm looking forward to putting these in the hallway for everyone to enjoy.
Math
We reviewed all their prior knowledge of length, weight, and capacity. During this new unit students are building on these concepts and learning to measure using customary units.   We really enjoyed our hands-on measurement activities and comparisons. Exploring capacity was especially fun! Our objectives this week were to:
use inch, foot, yard, and mile as units of measurement for lengths.
estimate and measure given lengths.
use referents to estimate lengths.
use ounce, pound, and ton as units of measurement for weight.
measure capacity with cup, pint, quart, and gallon
inch (in.) – pulgada (pulg)
half-inch – media pulgada
foot (ft) – pie (ft)
yard (yd) – yarda (yd)
mile (mi) – milla (mi)
ounce (oz) – onza (oz)
pound (lb) – libra (lb)
ton (T) – tonelada (T)
cup (c) – taza (tz)
pint (pt) – pinta (pt)
quart (qt) – cuarto (ct)
gallong (gal) – galon (gal)
History & Geography
This week we began our new unit on European exploration. We started with a lesson on Columbus in 1492. We reviewed what the class already knew about Columbus and made predictions about what we would be hearing in our readings. We read about the Conquistadors and how Columbus's second voyage was, in many ways, more important than the first. We had several interesting discussions about the negative impact on the inhabitants of the islands that were visited in these voyages.  We listened to the song "1492" and then began practicing it. The class loves singing this song!  Students began their European Explorers' travel log and wrote an entry on Columbus. We also finished our Children Of The Longhouse chapter book this week. Everyone loved this book!
Science
We learned about Mae Jemison in science this week. She is an incredible woman and the class was so impressed with her accomplishments in her life. We continued to work on our Nicolaus Copernicus biography but I gave the class the option of doing a biography on Jemison instead if they wanted to. About half the class chose to write one on Mae Jemison, even though that meant more work on their part since they were partially done with their biography on Nicolaus Copernicus. I am pleased though, because I think this will lead to some interesting comparison discussions about these two amazing people. The journal entry this week was on what it takes to become an astronaut and if this would be something the class would want to do someday. On Friday we began preparing for are domain assessment. We did some riddles to practice the core content of this unit. We will continue reviewing on Monday.  The astronomy assessment will be next Tuesday, March 29. Extra credit work is due on Monday, March 28th. This is not a required assignment.  Individual students decided whether or not they wanted participate in this activity.
English Spelling
For grammar this week we did review work on past and present participle with suffixes -ed and i-ng. The class worked on their new sorts. For activities this week I'm requesting that students try new activities they haven't done in the previous weeks. This allows them to look at their words in a new way and hopefully encourages them to practice their words a little bit more. For Journal writing this week, along with our astronaut entry, we also wrote about what what we thought the idiom "a feather in your cap" means. Students then shared their entries with a partner and then had to explain their partner's idea to the class. This activity helped to work on listening and summarization skills.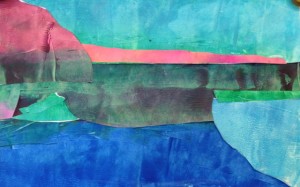 Art
The second and third graders also learned about Henri Matisse this week. We read a book called "Drawing with Scissors" and we looked at several examples of Matisse's paintings and collages. The students started a collage of a still life with a  window in the background. They're practicing cutting out shapes without drawing first!
Music
This week we discussed the brass section of the orchestra, and listened to The William Tell Overture, both as theme music of the 1949 Lone Ranger TV show and as conducted by Gustavo Dudamel.