Language Arts 
This week we learned all about words of time and order and how they help the reader (or listener) follow the sequence of a story. The students looked through the story they have been writing and made note of any words of time and order. They then worked on adding more of these words to help their writing piece flow.
Another grammar piece for the week was -mente which is equivalent to the -ly suffix. We talked about how this makes and adverb and adverbs are descriptive words for verbs.  (Like adjectives describe nouns.) We did a great section in our Estudio de palabra journals and learned how these adverbs are formed.
The students all did a great job on their weekly spelling tests and their sentences reflected their understanding of the meanings and uses of these words.  They also did a great job on their readers (book #18) and their word work for this book.
Math
This week we completed our fractions unit.  The students had fun with our game style review and then did very well on their assessments.
Students should now be able to:
understand a fraction as the quantity formed by parts out of a whole.
understand a fraction as a number on the number line.
explain the equivalence of fractions in special cases, and compare fractions by reasoning about their size.
understand tow fractions as equivalent if they are the same size, or the same point on a number line.
recognize and generate simple equivalent fractions.
explain why specific fractions are equivalent.
express whole numbers as fractions, and recognize fractions that are equivalent to whole numbers.
compare two fractions with the same numerator or the same denominator by reasoning about their size.
recognize that comparisons are valid only when two fractions refer to the same whole.
Social Studies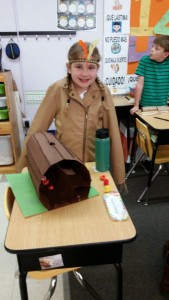 We began this week by working on our tic-tac-toe project in class. Students had the chance to get on the computers and do research on different aspects of their project or to type parts of it out. We also spent some time trying to finish up our read aloud chapter book, Children of the Longhouse. The class loves to predict what's going to happen next in the story and they get very upset when I end on a cliffhanger, which I do often. Better to leave them wanting more.  Our Native American day on Thursday was amazing! I hope everyone had as much fun as I did. We began the day by doing a tour of all of the dwelling models that students made. The Kindergartners and first-graders also got a chance to come in and see the class's work.  The  2nd/3rd graders explained to the visitors what their models were and how they built them. We then watched a slideshow with different Native American masks and then made our own Iroquois Shaman masks. After this we had a  Northwest  Native American Potlatch,  enjoying some food that the Native Americans might have eaten as well as corn recipes that some of the students made at home. Everything was delicious! We ended our day sitting around the school's teepee and using a traditional Talking Stick, (thank you Lily) to share things that we were thankful for.  I was very impressed at how much time and effort everyone put into their projects, they should be very proud of themselves.
Science
This week we did a lesson review on  how to write  biographies.  We then focused on Nicolaus Copernicus, we brainstorm facts that we know about him and a web with these. We will do more with this next week when we write a biography about him together as a class. On Tuesday we started a lesson on space exploration the class learned about the space race between the USSR and the United States. We talked about Sputnik and the first living beings that went into space. Are space lessons always take us more time then I plan for because our conversations are so full of questions, observations , and information that students have to contribute to what we are learning.
English Spelling/Writing
We had our usual routine in spelling this week. Students worked on their sorts and activities. Next week I'm going to change things up just a little bit and require that students do different activities than they did the previous week. Hopefully this will get them thinking in different ways about their sorts. In general most of the class did well on their spelling test.  For grammar we reviewed suffix ly ; we talked about how this suffix can change a noun to an adjective and an adjective into an adverb.
Some of our journal entries this week included writing about something courageous you have done and about a person you might want to write a biography about, stating what you know already about them and what you would need to find out.
Art
The second and third graders finished their coil pottery this week. They painted one of their pots with acrylic paint, and made a third coil pot using coils on all sides. These  colorful pots were on display in the classroom for the Native American festival, and hopefully they made it home safely!
Music
We celebrated St. Patrick's day with Sr. Kit's Peruvian harp. He played traditional Celtic and Latin American pieces and talked about the harp traditions in Peru and Ecuador.