Language Arts 
 This week the students read the story Picasso as a whole group and in pairs. We worked on comparing and contrasting skills, figurative language, and plural nouns.
Math
This week we worked on telling time. Our objectives are:
Tell and write time to the nearest minute and measure time intervals in minutes.
Solve word problems involving addition and subtraction of time intervals in minutes.
Calculate elapsed time.
Social Studies  
This week in social studies we have been learning about the Native Americans who lived in the greater Mississippi River areas. We learn how they were great mound builders and we compared these mounds to the pyramids of the Egyptians.   We found out that some of these mounds were shaped like animals, some h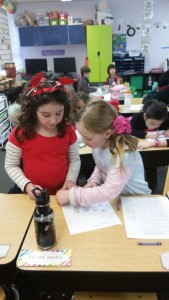 ad artifacts buried in them, and others were used as burial sites. We've also been reading the book The Children of the Longhouse.  It's been interesting because to compared the lives of these characters to the those of the Viking children that we learned about in our last unit. We have discussed similarities and differences between the two groups.  On Friday afternoon we had a special day of combining the 1st graders to the 2/3 class.  We did fun Valentine activities, sang songs, read books about Abraham Lincoln and even made campaign speeches if we were to become president.  Our class also got to help out in the preschool by reading Spanish books and helping with a craft activity.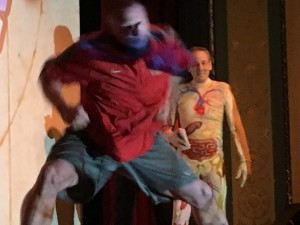 Science
We had a wonderful field trip  to Aladdin theater  to see Slim Goodbody  and his Bodyology show .  We learn some new things  about the systems of our body  and we also learned  that  Mr Jesse could move like a gorilla and Jack could do a double kick .  Wow! We have some talented folks at our school. This week we have gone more in depth into facts about the planets and our solar system. The class has begun their own coloring book about each planet and other celestial bodies and are reading details about these as they color each item.  On Friday we learned about the Milky Way and other galaxies in our universe.  We added the final line to our "address ".
English Spelling/Writing
The class is doing a amazing job on their spelling and sorts. I am so impressed with the scores on the spelling tests and how hard they work on getting all of their activities done. For grammar this week, we have been focusing on plural nouns, both irregular and regular ones. In our journals we wrote about our field trip and what it would be like to be a tour guide for a Native American mound  that still exist today. The class wrote their own tour guide information about these mounds. On Friday they had free choice to write in their journals but I encourage them to write a "love letter" to someone who is important in their life or a pet.
Art
The 2nd and 3rd graders continued working on their figure collages this week. They added the background, using simple shapes to create a scene, as Romare Bearden did in his collage art.
Next week they'll add a border to finish up these great "story quilts."