Language Arts 
 This week we read a great story Una capa para el soñador. Students did a great job predicting and retelling this realistic fiction piece.  We also worked with:
base words
suffixes
prefixes
present tense regular verb conjugations
making inferences (and how doing this makes our moms seem magical!!)
word study (decepcionar, resistente, sastre, coser)
New reader: #16
Daily journal writing and sharing (These are getting longer and longer and more detailed. The students all agree that the words are really flowing out of them now!)
Reading our class novel together and doing a daily summary or recap of what was previously read. (Their comprehension and excitement over this is so heart warming!!)
Spelling/ ortografia(words with hard /k/) Test on Tuesday, February 9th

cosa

queso

quitar

kilómetro

kárate

recortó

cubo

koala

escudo

esquimal

capa

recorrer

quería

carruaje

archiduque
Math
This week we spent a lot of time on bar model story problems and when we should use bar models. Bar models aren't meant to be used for every problem, only the problems where the information seems complicated without a visual representation.
On Friday we went over any homework problems that proved complicated or confusing. Then we looked at all the math units we have covered so far and all the ones we have yet to learn. To give the students a sense of empowerment I let them vote on which topic they would like to cover next. (We could have jumped right into area and perimeter to continue our multiplication and division studies but I felt a break from these would be in their best interest.) Students voted for Time & Temperature. We took a pretest on this unit on Friday so I could see exactly what the students are already familiar with. Based on this pre-test we will spend about a week on this unit. Ask THEM to tell you not only the time, but how much time until an event, or how much time has passed. (Elapsed time.)
Social Studies  
We finished filming our Viking skits and now we get to enjoy watching them next week.  The class had so much fun writing and performing them.  They did a terrific job of incorporating elements and vocabulary from this unit.  On Monday we began our Native Americans: Regions and Cultures studies.  We learned of different migration routes such as the Beringia Migration into North America from Asia and the Ice-Free Corridor to various parts of North and South America.  We identified these on our living map as well as individual maps to be kept in our Social Studies folders.  We also read about how the early native people changed from a nomadic existence to a different kind of existence and how climate and obtaining their food directly brought about this change.
Science
This week we reviewed last weeks lessons on what kind of celestial bodies are to be found in our solar system and how to differentiate them.  On Tuesday we began a short research project on planets and dwarf planets.  Students are working together in partners.  As the class began going through different trade books and websites, they noticed that some times sources wold have conflicting facts.  This lead to a good discussion on how our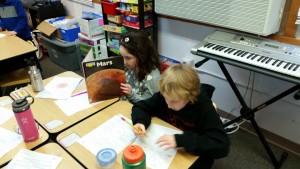 understanding of what is factual can change over time as new observations and measurements are made.  We came up with the idea of looking at the copyright date when available.  On Friday we began the second part of our Solar System lesson, delving deeper into understanding the role our sun plays and a more in-depth look at individual planets, dwarf planets, and the asteroid belt.
Just a reminder that we will be going on our Bodyology field trip Monday the 8th.  We will meet at the Aladdin Theater at 9:45.  We should be back at school in time for lunch and recess.
English Spelling/Writing
The class did wonderful on spelling again this week.  We have a good streak going.  I believe if it continues there will be a celebration in order.  For grammar this week we finished up with our suffix, prefix, and root word review.  We are working on remembering that "pre" means before so prefix come "before" the root word.  In writing this week we have been responding to questions that relate to our read a louds in Social Studies and in Science.
        A Week's Review by Lily

This week we finished our Viking unit and started astronomy and Native Americans.  In Astronomy we learned about lunar and solar eclipse.  Also, we learned why a leap year happens.  It happens because the Earth orbits around the sun like an oval, which adds an extra day every four years.  In Social Studies we learned how the Native Americans were nomadic, but once they started farming they couldn't move around anymore and so they settled.  In Spanish we started doing bar models with multiplication and division.  On Friday we played a game as a reward for speaking a lot of Spanish.  That is some of the stuff that happened last week.
Art
In both 2/­3 Art and 4­/5 Art, we started a quilt­collage in honor of Black History month. We looked at collages by Romare Bearden, and at story­quilts by Faith Ringgold. We noted how each artist used simple shapes to create pictures that tell a story or describe a scene. The students started out making a figure using construction paper. Next week we'll add the background and then make a fabric border. Does anyone have FABRIC SCRAPS at home that they'd like to donate?