Happy Holidays!!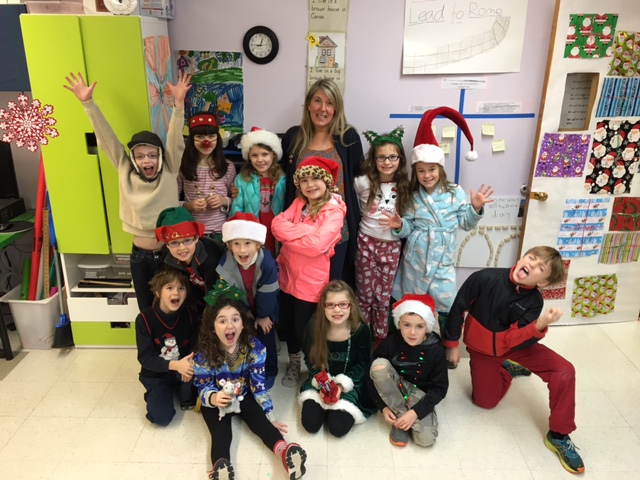 Language Arts 
Students received two new readers this week. They have an assignment for one of the books. They are to make a list of cognates from the story on one side of a paper. On the other side of the same paper they are to make a list of words that are new to them. They shouldn't automatically look these words up. Are they able to use context clues to help figure out what the word might mean? Please have them read their books throughout vacation so they are ready to jump back in when school resumes.
This week we focused on cause and effect during our reading. We have studied this previously but are looking at more complex examples in our anthology. A good way to reinforce this skill at home is to ask about it. What happened? What caused that to happen?
Ask your child to summarize something they are reading. Ask them questions. This helps them to be more involved readers.
Spelling/ ortografia(present tense words)

This past week's spelling words included knowing their meaning. This is something we've focused on each week but never been tested on before. We will continue to do this in subsequent weeks.
The 2/3 class was a great help this week in the kindergarten class. They were wrapping and reading buddies. It was so nice to see them take on the big-kid roll.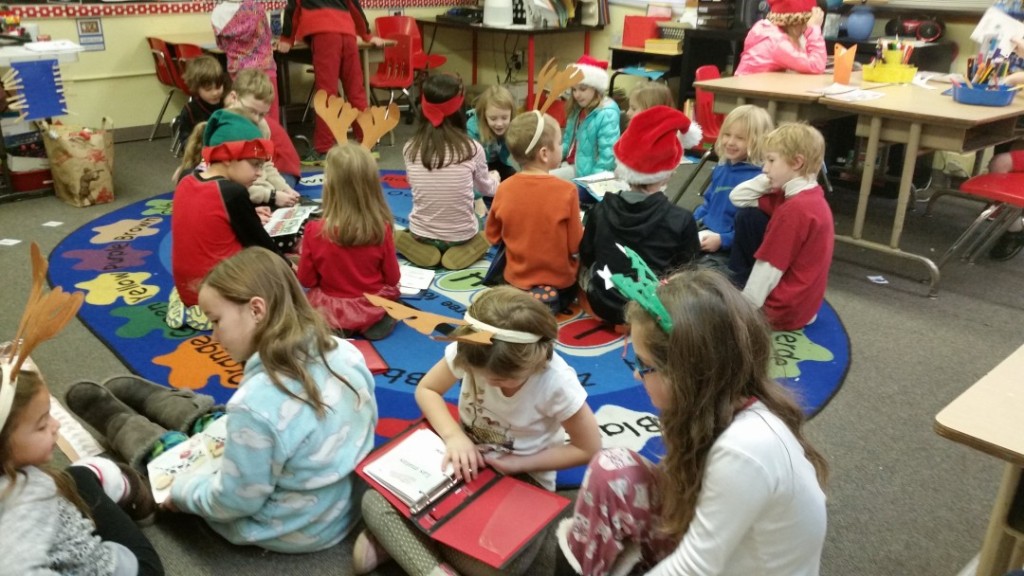 Math
We worked on the relationship between multiplication and division this week. The students made fact family gingerbread houses on Friday. They also wrote a story problem to accompany their house. These can be viewed in the hallway on our class bulletin board.
We spent a lot of time this week on story problems. To better understand the information contained in story problems we wrote our own. They did a great job sharing their story problems as well as solving their classmates'.
We talked about how math in the real world isn't  being given and solving a simple addition, subtraction, multiplication, or division problem. Math in the real world is all about knowing when to use your math skills, which math skills to apply, and how. We talked about the math skills I needed to use when purchasing supplies for big school projects. (I needed 1.5 cups of M&M's for each student. There were 32 students. How many cups of M&M's did I need? Each bag of M&M's contained 5 cups. How many bags did I need to purchase? The bags cost $9.98 each. How much money would I be spending? Should I do the exact calculation or round up to $10?)
The students have a math packet that is due on Tuesday, January 5th.
Social Studies  
On Monday Ayn did a wonderful presentation about her recent trip to Guatemala.  She gave the class some background information about the countries geography, economics, and political climate, as well as it's recent history.  She shared her slide show, showing what the country and people were like.  She told us stories about some of the extraordinary individuals she has established friendships with in her many trips to this country.  She left us with a much better understanding of the hardships the people in Guatemala face and their remarkable ability to persevere in spite of them.  She also helped all of us better appreciate what we have in this country and in our own personal lives.
We have been writing a narrative paragraph on what it would be like to live in a Norse village during the age of the Vikings.  In the planning process for this piece the students listed five things under each of the senses that they might have experienced during this period of time.  The class pulled information from our read aloud in class, classroom reference material, and our vocabulary list that we have been compiling as we move through this unit.  They wrote their narrative in first person, many of the students looked up Nordic names to use for their character.  I am very pleased with this piece of writing that they have done, I can tell that everyone is really enjoying learning about the vikings.
In class we have been reading two short chapter books, Leif Eriksson and The Time Warp Trio, Viking It and Liking It.  We have been leaning about what viking raids were like as well as trade and exploration.
Science
This week in science we learned about the qualities of sound, including volume, timber, pitch, and frequency.  We also read about how our voice is formed by air from the lungs traveling through the trachea which then vibrates the vocal cords in our larynx.
English Spelling/Writing
Wow! The class did great on their last week's spelling test, I'm sure they will do just as well this week.  Our class has such a good handle on their spelling words and sort homework.  They have been very responsible about studying and it shows!  Fantastic job to everyone!
In grammar review this week, we have been having fun with homophones.  After doing some practice worksheets, everyone noticed and pointed out homophones in our reading and in our discussion.  We had lots of giggles playing Homophone Charades on Thursday. Come to think of it we had lots of giggles in general this week, there is definitely merriment in the air.
Journals have been free choice every day.  We haven't spent a lot of time writing in them since we have been doing the bulk of our writing during social studies time.
I hope you all have a relaxing and joyful winter break.  Safe travels for all those who will be away and I look forward to seeing everyone in the new year.
Art
The second and third graders finished their holiday tree pictures in art this week. These turned out very beautiful, and you will get to see them when you open gifts. The students also made beautiful holiday cards for you. Have a wonderful holiday!
Music
Sr. Kit shared a story about the origin of Rudolph the Red Nosed Reindeer, and we learned Spanish versions of traditional carols including Silent Night and Joy to the World.