Literatura
This week we read Dos días de mayo. Our objectives were:
understand the use of question marks and exclamation points as punctuation for interrogative and exclamatory sentences
recognize the difference in spellings and meanings between homophone pairs
recognize digraphs in our spelling list
review topic sentences and practice identifying them within a paragraph
use the comprehension strategies such as Asking Questions, Making Connections, and summarizing to construct meaning from the story
review cause and effect and use it as we read the story the second time
Matemáticas
This week we finished our multiplication unit. Our objectives were:
Multiply ones, tens and hundreds with regrouping
prepare for the chapter test by working on "Mi librito de multiplos",historias de multiplicacion, the chapter review sheet, and our Multiplication charts
prepare for the chapter test by playing Multiplication Concentration
students will demonstrate mental multiplication to multiply on the chapter test
students will demonstrate multiplication of 3 digits by 1 digit with and without regrouping on the chapter test
Kids did a great job on the multiplication test! Keep working on those multiplication facts at home!
History & Geography
Social Studies with Ms. Marci
This week we read about the Western and Eastern Empires and began reading about Romes lasting contributions . We also had fun doing a reader's theater about Romulus and Remus. The class continued to work on their Roman Contribution opinion papers.
Our objectives were to:
•  Identify some of the contributions of the ancient Roman civilization, and describe how they have influenced the present
• identify and locate on a map the following areas : Turkey and Istanbul
• explain that Rome had favorable and unfavorable emporers, and give a few examples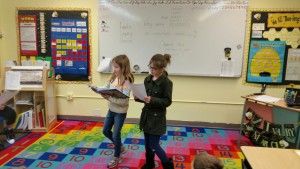 • identify a few factors that led to the decline of the Roman Empire
• explain why the Roman Empire split into two parts: the Western and Eastern Empires
• describe the development of Christianity during the Roman Empire, including the persecution of Christians
• describe the rise of the Byzantine Empire
• identify Constantine the Great as the first Roman Emperor to make laws to end the persecution of Christians, and describe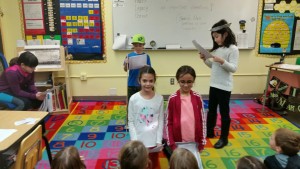 his other contributions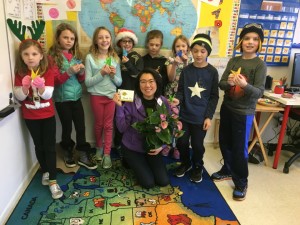 History & Geography with Ms. Laura: We studied Japanese cultural traditions:  flower arranging, wearing a kimono, growing bonsai plants and doing origami.  We enjoyed a special visitor, Ms Mitsue, to help us learn more about Japanese culture and traditions.  She showed us some authentic Japanese items and taught us how about origami. We finished this short unit, Japan Today, with a review and assessment, another Japanese folktale, The Crane Wife by Odds Bodkin, and some tasty Japanese style treats.
Science
This week we continued with our Light and Sound science domain.  The class had fun exploring tools that use lenses.
We began to read about what color is.  We also learned a new song about sound and light waves.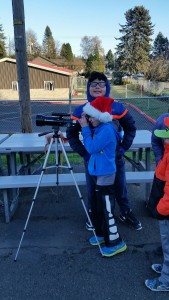 Our objections were to:
• identify light as a form of energy the travels and waves
• describe how light waves travel in different mediums
• explain that color is determined by how light is absorbed and reflected
• explain what causes a rainbow to occur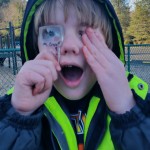 • identify the spectrum of colors that make up white light
English Word Work
We had our spelling test on Friday.  The Gorillas did particularly well this week. In grammar this week we worked on homophones, question sentences and explanation sentences.   In our journals we used the word "murmur" in a personal or seasonal story.
Specialists
Art with Ms. Kelly: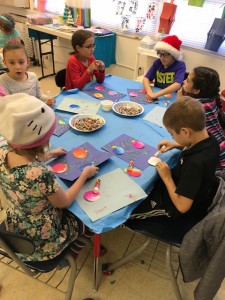 Holiday Pictures
Both the 2nd/3rd and 4th/5th graders learned how to use watercolors to paint holiday ornaments and how to use oil pastels to draw tree branches. The students combined these 2 media to make beautiful holiday pictures, some of which have been on the bulletin board at school. We talked about reflections, and using light and dark colors to make the ornaments look three-dimensional. The students layered different colors of oil pastels to create the texture of tree branches. All the students did a wonderful job on this project.
We also had time to create some holiday cards from extra watercolors, and the students learned how to use an art technique called Quilling to create a paper snowflake. Quilling originated in the 1600's when nuns used feather quills to make paper coils which were combined to create designs. The students rolled paper strips (1" x 12") around pencils or crayons and then glued the pieces together. Their snowflakes can stand alone or be used as an ornament. These would be fun to try at home!
Have a wonderful holiday!!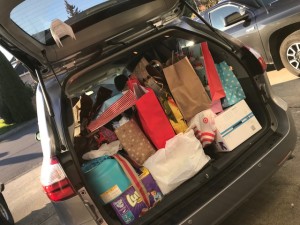 Character Education with Ms. Jennie: A huge thank you to all the SWS community for making our 3rd Annual Giving Tree for Share a BIG success. Our van was stuffed full of holiday goodness! Thank you for your kindness and generosity to help those less fortunate!