Language Arts 
This week we had a great classroom discussion on organizing expository texts, their topic sentences and the types of sentences we can use to support them.  We talked about using examples, reasons and causes, and facts. We also worked on synonyms, comparing fantasy and reality texts, and verb tenses.
We began daily journal writing. We talked about how this journal is a place for us to free-write with no worries about grammar, spelling, or punctuation to get in our way. We will have a 10-15 minute daily free write. Students may choose to share their writing with their classmates or keep it private.  (All writing, however, will be viewed by me so it can be an interactive journal where I respond to their writing at least once a week.)
Students received their 9th reading book and an accompanying worksheet, which is due December 3rd.
Spelling/ ortografia(words with gue and gui) Spelling test on Tuesday 12/1

juguete – toy                       guerra – war

guiso – stew                        pague – I paid

cuelguen – hang                colgué – I hung up

guiño – wink                       guión – script

guitarra – guitar                 seguir – to follow

albergue – hostel               manguera – hose

jueguen – they play             águila – eagle
Math
We continued our multiplication unit. Students learn new facts by building on known facts.(If I know 10 x 7 = 70, then 9 x 7 is just 7 less or 7 x 8 = 2 groups of 8 + 5 groups of 8)) Students are not expected to master all strategies. By using a number line, dot paper arrays and area models students are building a deep conceptual understanding of multiplication. We began taking 2-minute timed tests on the multiplication facts. These tests are really for the student's benefit/awareness of what they need to work on. They can retake the tests as many times as they'd like to, on non-testing days. Here are a few fun videos for them.
Social Studies  
We wrapped up our readings on Ancient Rome this week.  We went into greater depth on the demise of the Roman Empire.  The class pointed out causes such as the greed of the leaders and elite, the sheer vastness of its territories, growing numbers of invading groups, and religious divide.  We pulled out our classes' Living Map and marked the Constantinople as the byzantine capital of the Eastern Roman Empire.  We also reviewed the lasting contributions of this great empire which led into a great class debate as to which contribution was the most important.  Surprisingly so, not everyone stuck with the contribution that they are writing about in their opinion papers, some students were persuaded by others to change there stance. We continued to work on our opinion papers in class, focusing on the revision piece more in depth this time around.  Students are to do an illustration for this paper at home, using mix mediums and or making it 3 dimensional.  I want them to be creative and put more effort into it than just a simple drawing. This will be due on Tuesday Dec. 1.  We will also have a unit test on this day.
Science
We are continuing to work on our Light and Sound domain in science.  This week we got to explore with different tools that use lenses and light.  We started a light log to write down key ideas and vocabulary that we have been learning about.  We also did a lesson on what color is and how we perceive it. We discussed how color is derived from the spectrum of light, which is the distribution of light power versus wavelength.  We talked about how the eye has light receptors that allow us to see color.  We also review that objects have color based on how they absorb, reflect, and emit light.
English Spelling/Writing
The class had a short week with their spelling words, they came home on Monday instead of last Friday.  We turned in activities on Friday and took a spelling test.   I finished doing reading assessments this week. Everyone read an expository passage.  They were assessed on fluency and comprehension.  On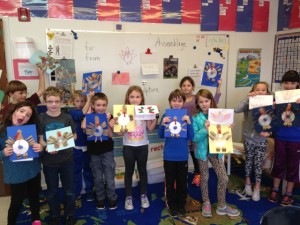 Friday we read some Thanksgiving books and did a gratitude activity in honor of the up coming holiday.
Art
The 2nd and 3rd graders took a break from their painting and drawing lessons (landscapes, still life, eagles) and learned how to make a "Wild Turkey" from recycled materials. We looked at Pablo Picasso's assemblage "Bulls Head," which he made from a bicycle seat and handlebars. I hope your Thanksgiving holiday is as fun as these turkeys!
Music
We had a special treat for music this week: Maestra Iliana! She filled in for an under the weather Señor Kit.