Literatura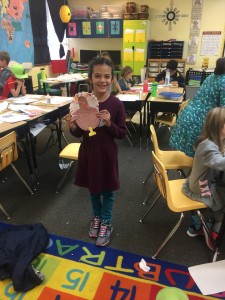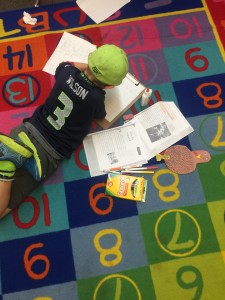 This week we were able to complete a writing project with our two full days together! It was great hearing the kiddos speak Spanish all day and having the extra time to do something fun. Our objectives were:
to use comprehension strategies such as Asking Questions, Clarifying, and summarizing to construct meaning from the text during our first read of Criaturas de la ciudad
use the comprehension skill Drawing Conclusions as we read the second time
test spelling words
understand words that tell us when an action is occurring
check out library book for the upcoming Book Report
write a response to a nonfiction book about Thanksgiving
Over Thanksgiving break there is no spelling homework and no reader homework! Kids should be reading their book report book over break, when we get back from break you will get more information on the book report, most of which will be completed in class!
Matemáticas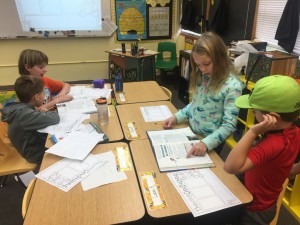 This week we continued working with multiplication. Our objectives were:
understand multiplication by using area models, number lines, and array models
practice multiplication facts of 7,8, and 9
Over the break the only homework is to continue working on Khan!
History & Geography
This week we worked on our Roman lap books and we read about Augustus Caesar and the Roman Empire.
H & G with Ms. Laura: We learned about the silk … its discovery and its secrets!  We 'role' played life on The Silk Road, with students acting as Chinese traders, western traders and bandits.   We began to study for customs relating to celebration of Chinese New Year, including making some Chinese lanterns, dragon stick figures and singing a Chinese New Years song.  We will celebrate Chinese New Years on Tuesday, November 28th!  Wear red!
Science
On Thursday and Friday we finished our animal presentations.  The students did a great job of presenting in a clear and projected voice, while reading from their report.  They also fielded questions and comments from their audience afterwards.
Specialists
The Giving Tree:  Look for the tree and the gift tags in the hallway. Information about the specifics of the Giving Tree is posted in the hallway, and we'll send out more details in an upcoming newsletter as well.