Language Arts 
 I am thrilled to be teaching the 2/3 class!  All the students were eager and ready to start each day this week. We jumped right in and started our school year off with a summer writing piece.  All the students did a great job on this.  To help with their rusty summer-Spanish vocabulary some nightly Spanish reading would help!
This year we will keep a yearlong vocabulary investigation journal. We set these up this week with the title of our first Language Arts unit:  la amistad / Friendship. Students looked this word up in the dictionary (using a Spanish/English dictionary is a skill in itself!).  Lucy gave us a wonderful sentence to add to our journal, students brainstormed synonyms for our journal and then illustrated this. By the end of the year the students will have created a wonderful thesaurus.
We established our questions and concepts board for investigation and exploration. Students will add questions they hope to have answered throughout each unit. They can also add key vocabulary they come across, and this might make it into our vocabulary journals.
Math
We began the year by establishing our math journals. Students wrote their number words in Spanish and English, to be used as a glossary. We will be using these journals as we explore different math topics throughout the year and for our ALEKS accounts.
This year we have purchased math workbooks in English.  This way, when students work in these at home, parents are better able to provide support in English. Also, we think it is critical that students have their math vocabulary in both languages.  Students worked in their workbooks this week as we split the class for math assessments in our online ALEKS math program.  Students are encouraged to work in their ALEKS account for no less than 90 minutes per week. (That works out to less than 15 minutes per day.) They should NOT be working all problems out in their head.  They have a math notebook that should be dated, labeled, and used for problem solving whenever they are using the ALEKS program. The kids are very excited about this! (It's also a great way to incorporate technology into their everyday learning.)
Our first math unit is numbers up to 10,000.  This unit is a nice review of number vocabulary, skip counting, adding of multiple digits, etc. How high was your child able to count by 100's and by 10's? Make sure they aren't saying "and" as the "and" is for decimals!
Social Studies  
The first week has just flown by and I must say we have a fabulous class! It has been so nice to see all the familiar faces and to meet all our new ones too. We started the week off by celebrating Juliette's birthday. We made her cards and a B-day t-shirt, and shared some otter pops that she brought in a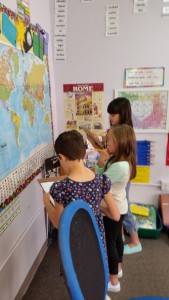 s a special treat. We also worked on an "Aloha" T-shirt assignment to help us get to know one another better. Look for these on our bulletin board next week.
In Geography we started off by reviewing what we know about the continents and the oceans. We filled
in a blank map individually and then went on a scavenger hunt with a partner, answering questions about locations of things on maps and globes. We also played a beach ball globe game, learned some new continents and ocean songs and worked in groups to assemble a "living map" that we will be using through out the school year, along with a map scale activity.
Science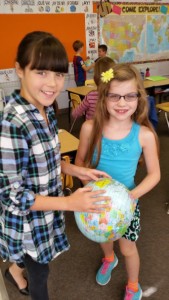 We have begun our unit on Animal classification. We discussed how scientists classify animals by common or shared characteristics. We read about the differences between Vertebrates and Invertebrates, we watched a video on how we classify animals. We read a poem about animal characteristics and discussed the poet's purpose for writing it and then we did our own illustrations for it. We also filled in a chart on animal group characteristics.
English Spelling/Writing
The class did not do any spelling sorts this week. Students did a pre-assessment on Thursday to see what sort they should begin with.  Next week we will start our sorting activities and I will be meeting with groups.  I will send home a copy of the sort list at the beginning of the week and we will typically have a quiz at the end of the week. This year I will be assigning spelling homework each week. I will also want everyone to be reading at least 20 minutes every day as part of their weekly homework.  Please check your child's planner daily, besides homework they will also be writing down daily vocab.
Art
The 2nd and 3rd graders learned how to design letters that resemble school and art supplies such as pencils, brushes, paint, etc. The students used the letters in their names to make these great designs. Their creative name designs are on display on the bulletin board at school. ~Ms. Kelly
Character Education
Our focus during the month of September in Character Ed will be kindness.  We will be getting to know our new friends, reconnecting with familiar ones, and learning to demonstrate kindness together.  Our primary means of teaching will be through read-aloud books and stories, followed by fun activities to engage each student to pursue this trait. ~Ms. Lisa
Music
This week we listened again to some of the classical selections from last year, and the continuing students were very happy to share their favorite activity from last year with their new classmates. Families can share it, too, at http://www.classicalkusc.org/kids/opera/index.asp. Sr. Kit thinks it's pretty cool that this comes from his alma mater, the University of Southern California. By the way, it's amazing how well the class remembers some of the songs we learned last year. ~Señor Kit