Literatura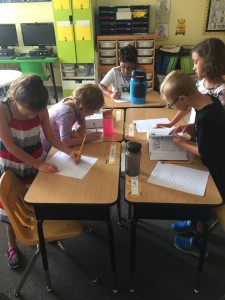 What a great first week of school! It was great seeing how excited everyone is for the brand new school year.
This week we reviewed procedures and expectations for Language Arts. We also jumped right into our first unit, La Amistad (Friendship). Our objectives were:
Familiarize ourselves with the textbook, including the table of contents and glossary
Understand and discuss our unit theme
learn and practice cursive i and t
review our dictionary skills and use them to define our spelling vocabulary
Write our first journal entry discussing goals for the year
We are also focusing on using our planner this year. Please make sure to encourage your student to show you their planner, this will also be where we write important dates and events!
Matemáticas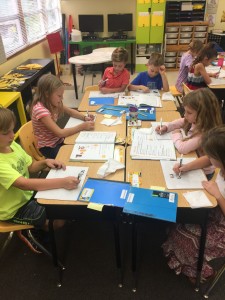 This week after discussing procedures and expectations during math, we jumped into our first chapter, Numbers up to 10,000! Our objectives were:
Complete "Este soy yo. Por los numeros" activity
Use base-ten blocks to show numbers
Express a number in different forms including normal form, word form, and expanded form
count to ten thousand
count on by ones, tens, hundreds, and thousands
Students also received a math packet, this is for at home reinforcement and does not need to be turned in. Everyone did a great job working with numbers and getting used to 2nd/3rd level work!
History & Geography
It was so good to see everyone's smiling faces in our bright and sunny classroom on the first day of school.  I can already tell it's going to "bee" a great year!  On the first day we worked on reviewing procedures and expectations for our classroom. Each person in class came up with some personal goals/affirmations they want to work on this year. Check them out on our Bee bulletin board in the hall.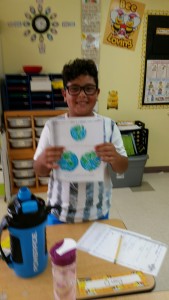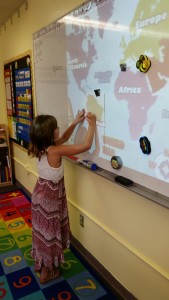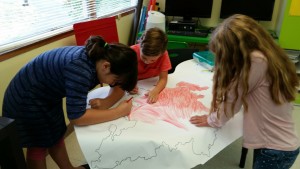 Social studies
This week we began our first Social Studies unit on geography.  In this unit we will be reviewing the basics of locating the continents and oceans, finding the equator, and locating the polls. We will also be using map symbols and keys to design our own class "living" map to which we will be adding information throughout the year.
Our objectives were to:
•  understand how to use and construct maps, globes, and other geographic tools to locate and derive information about people, places, and environments
•  identify the four major oceans:  Pacific, Atlantic, Indian, Arctic
•  identify and label the seven continents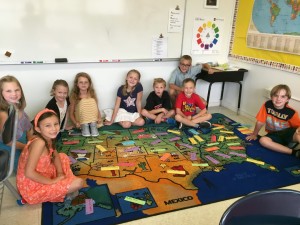 H&G with Ms. Laura
Welcome to second grade History and Geography!  We started our first unit, Geography of the Americas, by matching the fifty states in the United States of America with their nicknames.  We also identified some characteristics shared by many maps, such as compass rose and map key.  For the United States and Canada, we studied and started coloring maps (noting states on the U.S. map and territories and provinces on the map of Canada), handled some actual coins from each country, listened to the national anthems and drew the flags.
Week of September 11 -15, 2017
We will continue our study of North America by learning about Mexico and The Caribbean.  We will also talk about The West Indies.
Science
Our first science domain this year will be on classification of animals. We will learn about five groups of vertebrae, why scientists classify animals into groups, and the characteristics by which they make these determinations.  In years past this has been a very exciting unit with lots of interesting activities. Our class has already come up with several things they would like to do with this domain.
Our objectives this week were to:
•  observe and describe basic characteristics of an animal
•  identify cold blooded/warm-blooded and vertebraes/invertebrates as important characteristics used to classify animals
•  explain that scientists classify animals by common or shared characteristics and that they do so in order to study animals and show relationships
English Word Work
We will begin our spelling program next week. The students took a spelling assessment on Friday. Spelling activities this year will be done at home and students will be responsible for turning in their activities on Friday for both Spanish and English. They will have a weekly spelling homework check off sheet in their Take Home Folders. This sheet will list activity choices to be done and point value for each.
Grammar this year will be a preview or review of what is being learned in Spanish Language Arts.
 Wonderful Wednesday Specialists
ART NEWS
It was great seeing everyone back at school on Wednesday! A special THANK YOU to Alora's mom, Stacy for returning to help out in the Art Room!
The students observed real sunflowers (planted by my grandson Landon), and we looked at Van Gogh sunflowers and Georgia O'Keefe flower paintings. The students then drew and painted their own sunflower blossoms. I hope to display their beautiful paintings next week!
If you would like to help out in the Art Room, there is a yellow VOLUNTEER SIGN-UP sheet posted on the bulletin board by the Art Room door. The 2/3 class meets from 12:30-1:30. Even though Stacy helps out every week, it's always great to have extra help!
As a reminder, it's a good idea to have your students wear OLDER CLOTHES on Wednesdays that you don't mind getting paint, oil pastel, marker stains on


UPCOMING SEPTEMBER ART UNIT: Mosaics
The students will learn about ancient Roman Mosaics and then try some different techniques and materials to create their own mosaic art.
MUSIC with Ms. Erin
I'm excited to be teaching music this year at SWS!
For the month of September I will be introducing the Kindergarten/First class to music ideas involving high and
low sounds, fast and slow tempo, basic rhythms, and starting Solfeggio singing.
2nd/3rd grade will be reviewing and learning those same musical ideas, adding new knowledge
including more extensive Solfeggio practice, and learning all about the famous composer Johann
Sebastian Bach!
4th/5th grade will be reviewing all they have learned, adding more complex rhythms, and learning
about the American composer John Philip Sousa.
I will bring in my electric piano for all grades to play music games and sing along with on the 3rd week of
September. All grade levels will be given custom made music theory coloring pages to have fun with and
help them exercise the music terms they learn. All grade levels will learn to sing popular songs like
Twinkle, Twinkle, Little Star; On Top of Old Smokey; This Little Light of Mine.